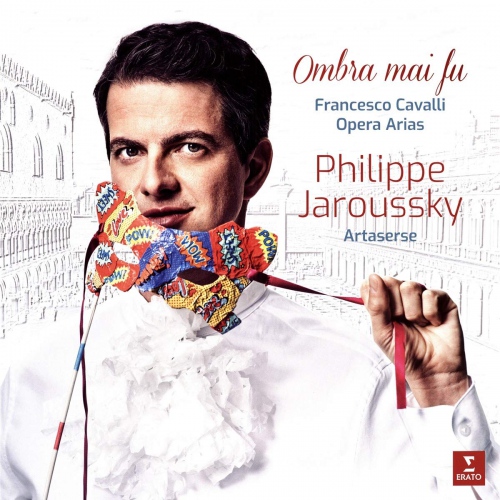 Philippe Jaroussky
Cavalli: Ombra Mai Fu
An album of opera arias and symphonies by Francesco Cavalli, the prolific 17th century Venetian composer with 41 operas to his name, who was Handel's predecessor in Hannover. Featuring Erato label mates Emoke Baráth and Marie-Nicole Lemieux , this is the first time Philippe has recorded Cavalli since his guest appearances on Christina Pluhar's album dedicated to Cavalli, 'L'Amore innamorato'.
Tracklist:
1.Il Xerse, Act 1: "Ombra Mai Fu" (Xerse)
2.Statira, Principessa Di Persia, Act 2: "All'armi, Mio Core" (Brimonte)
3.L'erismena, Act 2: "Uscitemi Dal Cor, Lacrime Amare" (Idraspe)
4.La Calisto, Act 1: "Ninfa Bella" (Il Satirino, Linfea)
5.Elena, Act 3: "Ecco L'idolo Mio... Mio Diletto, Mio Sospiro" (Menelao, Elena)
6.Ercole Amante, Act 1: Sinfonia
7.Eliogabalo, Act 1: "Io Resto Solo?... Misero, Così Va" (Alessandro)
8.L'ormindo, Act 2: "Che Città" (Nerillo)
9.Gli Amori D'apollo E Di Dafne, Act 3: "Ohimé, Che Miro?" (Apollo)
10.Gli Amori D'apollo E Di Dafne, Act 3: "Misero Apollo" (Apollo)
11.Eritrea, Act 1: "O Luci Belle" (Laodicea, Theramene)
12.Il Giasone, Act 1: "Delizie, Contenti" (Giasone)
13.La Virtù De' Strali D'amore, Act 2: "Alcun Più Di Me Felice Non È" (Clarindo)
14.Pompeo Magno, Act 2: "Cieche Tenebre" (Sesto)
15.La Virtù De' Strali D'amore, Act 3: "Che Pensi, Mio Core?" (Amore)
Order vinyl:
The official Android App for upcomingvinyl.com is now available for free on Google Play.
Vinyl & Turntable Accessories
24 July 2020
/ More records