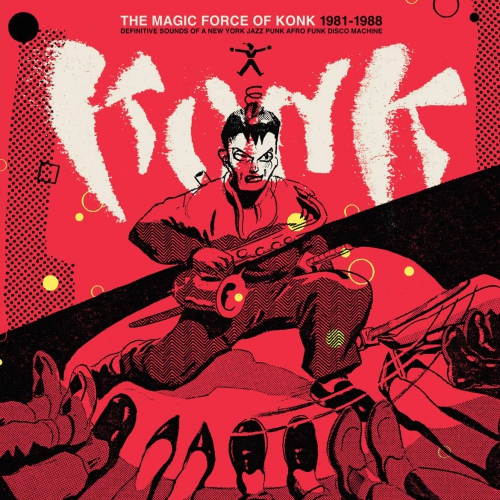 Konk
The Magic Force Of Konk 1981-1988
(3xLP)
This year FUTURISMO ask you to get ready for KONK, with the ultimate collection The Magic Force Of Konk 1981-1988! This white hot limited edition 3xLP set is a lovingly composed deluxe retrospective, showcasing the definitive sounds of a New York jazz punk afro funk disco machine. Emerging during a period marked by the post-punk, new wave, disco and early hip-hop scenes, KONK straddled genres, blending the balls to the wall attitude of punk with the dance your ass off rhythms of the clubs, an eclectic approach that resonated throughout the city. Equally at home in rock clubs such as CBGB's as they were in Danceteria and Paradise Garage, KONK took NYC's supercollider of sounds and melted them down into a hard driving, latin infused flavour all of their own. The Magic Force Of Konk 1981-1988 is a testament to the bands artistic staying power, the music sounding as fresh now as it did then, from the crossover funk grooves of the 'Planet Rock' inspired 'Konk Party', to the innovative punk funk synth bass of club hit 'Your Life', the bands influence indisputably lives on in this specially created deluxe collection. This beautifully designed package is a feast for the senses, looking as good as it sounds and sure to please fans of Liquid Liquid, ESG, Pigbag, James Chance, Soul Sonic Force, LCD Soundsystem, to name but a few, or simply those intrigued by those tales of wild nightlife that have become synonymous with the vitality of 1980's downtown New York City. Coming 4th Oct 2019, FUTURISMO give every discerning music fan the collection their ears have been craving, The Magic Force Of Konk 1981-1988. Each deluxe set includes 3x140g limited edition 'Night Fun' coloured vinyl - where each of the three disks are a different vinyl colour (transparent red with black marble splatter, solid bright yellow and classic black). Included alongside all the original studio recordings by the band are live tracks from CBGB's plus a disk of DJ mixers, which can be used to mix alongside the original versions of 'Your Life' and 'Konk Party'. These records come in a wide spined gloss laminated sleeve and contain a 12pg book featuring photos, flyers and a written piece by journalist Ezra Gale, and as if that wasn't enough also included is a huge poster and a digital download of the tracks. KONK's The Magic Force Of Konk 1981-1988 is an essential addition to the collection of any jazz, funk, punk, afro or disco fan! This October, get down to the sound of the New York underground... only while stocks last!
Tracklist:
1. Konk Party
2. Baby Dee
3. Soka Loka Moki
4. Honeymoon
5. Your Life
6. Elephant
7. Cool Out Gar (Third Stone from the Sun)
8. Suave y Caliente
9. Love Attack
10. Machine
11. Alien Jam
12. Soka-Loka-Moki (7 Inch Part I)
13. Soka-Loka-Moki (7 Inch Part II)
14. Tonton MacOute (Live at CBGB 81)
15. Alamo (Live at CBGB 81)
16. High on the Hill (Live at CBGB 81)
17. Fela (Live at CBGB 81)
18. Frog Talk (Live Broadcast to Paris)
19. Konk Party (Uptown Breakdown)
20. Konk Party (Master Cylinder Jam)
21. Konk Party (Bonus Beats)
22. Your Life (12 Inch)
23. Your Life (Skull Whip)
24. Your Life (What U Want Dub)
Order vinyl:
The official Android App for upcomingvinyl.com is now available for free on Google Play.
Vinyl & Turntable Accessories
08 November 2019
/ More records