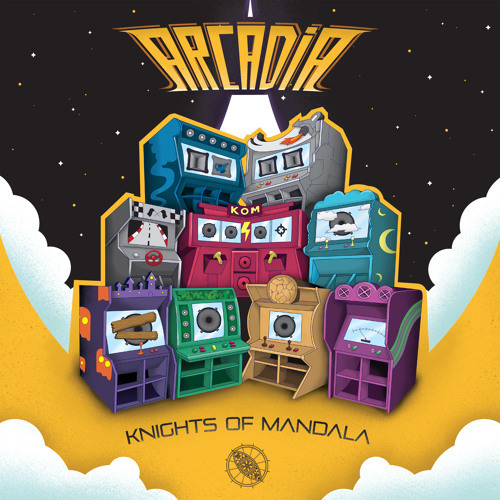 Knights Of Mandala
Arcadia
Knights of Mandala is a Dub band from Paris, strongly inspired by the geek culture. Active for five years, the group has produced 4 EPs mostly instrumental, going from jazz fusion to a singular electro dub. KoM is composed of 4 members on stage, all composers and arrangers in other solo projects: MadinC, Olymandris, Rodney and Woogie. They are also accompanied by the beatmaker Kaaz in the composition. Influenced as well by the pillars of the French Dub (High Tone, Zenzile,...) as by the new actors of the movement (Panda Dub, OnDubGround, OBF,...), they also mix their sound with reggae, jazz and urban influences that we find in the first album, Arcadia.The album is built as a pictorial reflection around a multiverse. Tackling various subjects such as ecology, human exploitation or the perception of reality, each track is a new game in which one must progress to extract the message.Thus, the group invited on this album several artists engaged in these reflections, in the continuity of their last EP "Urban Legend". The singer Suzanne Belaubre, a modern poetess with whom KoM had shared a stage, was an obvious choice. She delivers a text resolutely turned towards ecology and the future. The choice of Baltimores was also obvious. The MC from Marseilles is an author of conscious texts, with rich references, close to those of the group. This collaboration is a lively track, a tribute to the sound system culture.Finally, the group wanted to perpetuate it's instrumental heritage and it's taste for the musics of the world. In search of a tribal and powerful sound, the multi-instrumentalist RAAVNI made the didgeridoo roar and the harmonium vibrate to perfectly symbolize a dense jungle. The album also benefits from a re-adaptation by the duo Demkaz of the track Sky City Voices.
Tracklist:
1. Those Who Sleep Through Eons
2. All Night I Be Calling It (Feat. Baltimores)
3. Kuro X Shiruba
4. Furious Djinn
5. Dune, Autre Planète (Feat. Suzanne Belaubre)
6. Iss Behind the Horizon
7. Haruun Kal (Feat. Raavni)
8. Sky City Voices (Demkaz Version)
9. Oilpunk Racing
Pre-order vinyl:
The official Android App for upcomingvinyl.com is now available for free on Google Play.
Vinyl & Turntable Accessories
More upcoming records