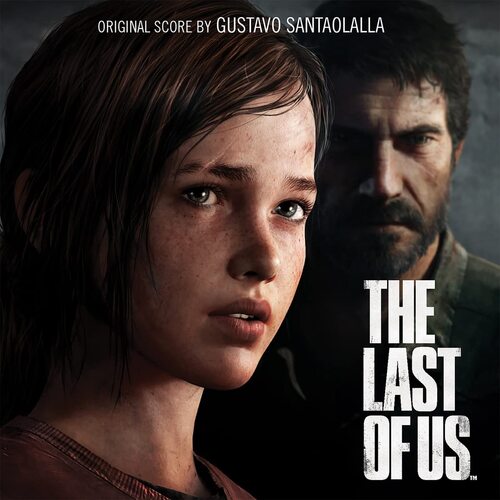 Gustavo Santaolalla
The Last Of Us Original Soundtrack
(2xLP)
The 2013 action-adventure game The Last Of Us was originally published in 2013 by Sony Computer Entertainment and was developed by Naughty Dog. The game is played in a third-person perspective and it's player controls Joel, a smuggler who is escorting the teenager Ellie across a post-apocalyptic America. The game received critical acclaim, with praise for it's narrative, gameplay, visuals, sound design, characterization, depiction of female characters. The Last Of Us became one of the best-selling video grames, selling over 1.3 million units in it's first week. The game won multiple Game of the Year awards and has been cited as one of the greatest video games ever made.The Last Of Us also received acclaim for it's score, which was made by composer Gustavo Santaolalla. Santaolalla is also known for his work on Brokeback Mountain and Babel, for which he both won the Academy Award for Best Original Score. The Argentinian composer also created the music for the series Jane The Virgin and Netflix' Making A Murderer. His soundtrack to The Last Of Us was his first in the video game industry. In 2020, he also returned to compose the music to the sequel, The Last Of Us Part II.The Last Of Us is available on black vinyl. This 2LP is housed in a deluxe gatefold sleeve, includes printed innersleeves and an 8-page booklet with liner notes by writer and creative director Neil Druckmann.
Tracklist:
1. Side A
2. 1. the Quarantine Zone (20 Years Later)
3. 2. the Hour
4. 3. the Last of Us
5. 4. Forgotten Memories
6. 5. the Outbreak
7. 6. Vanishing Grace
8. 7. the Hunters
9. Side B
10. 1. All Gone
11. 2. Vanishing Grace (Innocence)
12. 3. By Any Means
13. 4. the Choice
14. 5. Smugglers
15. 6. the Last of Us (Never Again)
16. 7. the Last of Us (Goodnight)
17. 8. I Know What You Are
18. 9. Home
19. Side C
20. 1. Infected
21. 2. All Gone (Aftermath)
22. 3. the Last of Us (A New Dawn)
23. 4. All Gone (No Escape)
24. 5. Vanishing Grace (Childhood)
25. 6. the Path
26. 7. All Gone (Alone)
27. 8. Blackout
28. 9. the Way It Was
29. Side D
30. 1. Breathless
31. 2. the Last of Us (You and Me)
32. 3. All Gone (The Outside)
33. 4. the Path (A New Beginning)
34. 5. Returning
Pre-order vinyl:
The official Android App for upcomingvinyl.com is now available for free on Google Play.
Vinyl & Turntable Accessories
More upcoming records