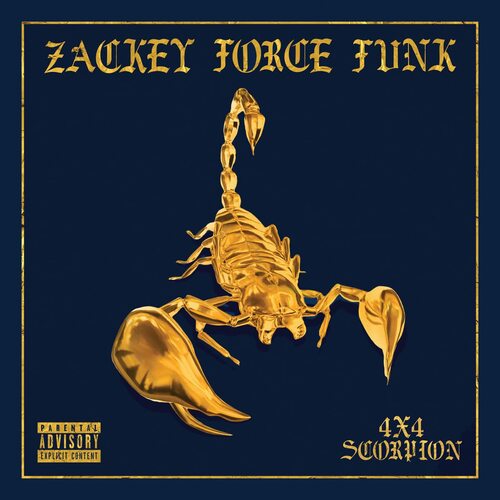 Zackey Force Funk
4X4 Scorpion (Blue/Green)
From dark and dusty days in Tucson, AZ to Long Beach sunshine, ZACKEY FORCE FUNK is back with another collection of bonafide gangster funk. His new album '4X4 SCORPION' is an assemblage of sentiments from Zackey's life experience that spans from the streets of Arizona to outer space. Classic synth lines and bright funky textures drip from tunes like "Around My Way" (Produced by Brian Ellis), "Lil Dutchie" (Produced by Diamond Ortiz) and "Glide Through the Galaxy" (Produced by XL Middleton). The bumping bass lines and cracked out vocal lines in "Shakazulu" (Produced by Stephon Osae) and "Hater 3000" (Produced by Proh Mic) travel straight from the trunk and into the surrounding vicinity as the hydraulics bounce. Zackey and Producer extraordinaire Salva team up once again for a tribute to their mutual hero, The Egyptian Lover, with "Girl". The title of the album comes from a life of crime in Tucson that had Zackey in and out of prison since the age of 17. Cocaine that moved across the border from Mexico had to be stamped with either a 4x4 or a scorpion, or else it was tainted. Herein lies the significance of '4X4 SCORPION'. After giving up that life, Zackey began to hone his craft. Years of hard work and collaborations with the likes of Lazer Sword, Lorn, Mike Gao, Inkswel, Jellphonic, Daedelus, Salva and B. Bravo, Zackey became the psychedelic future funk pirate that he is today. Zackey Force Funk released his first collection of demos mixed by Kutmah titled 'THIS IS MY FORCE FUNK SOUND' on HIT+RUN in 2009. His debut album, 'MONEY GREEN VIPER' (containing the worldwide funk anthem "Press Play'"), was released in 2014. Since then Zackey has released four more full length albums (including 2017's slept-on underground masterpiece LINEAS with collaborator Eddy Funkster), the latest 'BODYROCK SHOTGUN' came out on XL Middleton's MOFUNK Records in 2018.
Tracklist:
1. ABC My Love (Produced By XL Middleton)
2. Around My Way (Produced By Brian Ellis)
3. Animal (Produced By Cabav Grimm)
4. Agony (Produced By Eddy Funkster)
5. Shakazulu (Produced By Spefon Osae)
6. Lil Dutchie (Produced By Diamond Ortiz)
7. Hater 3000 (Produced By Proh Mic)
8. Glide Through Galaxy (Produced By XL Middleton)
9. Girl [Egyptian Lover Tribute] (Produced By Salva)
10. Keep Your Records Clean (Produced By Trailer Limon)
11. Seeing Sound of a Thousand Suns (Produced By Trailer Limon)
Order vinyl:
The official Android App for upcomingvinyl.com is now available for free on Google Play.
Vinyl & Turntable Accessories
More upcoming records