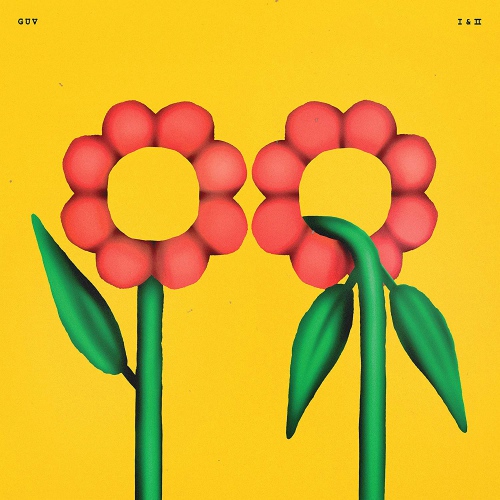 Young Guv
Guv I & Ii
(2xLP)
Young Guv only makes hits, baby. It's what he was born to do. Too many hits, in fact - since last summer, Guv (a.k.a. Ben Cook) moved to Brooklyn from his native Toronto and wrote music, because that's what Young Guv does. This manic pace produced two albums worth of power-pop bliss, psychedelic riffs, and swagger that would make a Gallagher (the British ones, not the watermelon ones) blush. The end result: GUV I and GUV II, two full-length albums available only from Run For Cover Records or from GUV himself. Now, GUV I & II is available for the first time ever as a 2xLP set. Both of Young Guv's releases from this year in one reimagined set on color vinyl. It features new art laid out & illustrated by Braulio Amado as well as two new bonus tracks exclusive to the release. 19 tracks in one set, for your ears only. I'm going to level with you here: 2019 has been the Year of GUV. You're going to feel like a real dweeb if you miss out on this now, with only a few weeks left to be a part of it. This is your chance to relive your favorite GUV moments, which are only getting further away with every word you read here: Signing To RFC, Touring with Culture Abuse, the Sound & Fury Aftershow, Touring with Turnover, Playing Matty Matheson's Fest, The GUV NYC Release show... he's done it all! Now it's time to cement your place in the GUV legacy with GUV I & II, available November 8th on Run For Cover Records.
Tracklist:
1. Patterns Prevail
2. Roll with Me
3. Every Flower I See
4. Luv Always
5. Didn't Even Cry
6. High on My Mind
7. Exceptionally Ordinary
8. A Boring Story
9. She's a Fantasy
10. Try Not to Hang on So Hard
11. Caught Lookin' Trying to Decide
12. Forgot to Feel
13. Can I Love U in My Own Way
14. Song About Feeling Insane
15. Can I Just Call U
16. Can't Say Goodbye
17. Try Not to Hang on So Hard (Demo
18. Hammer & Pulse (Demo)
Order vinyl:
The official Android App for upcomingvinyl.com is now available for free on Google Play.
Vinyl & Turntable Accessories
08 November 2019
/ More records