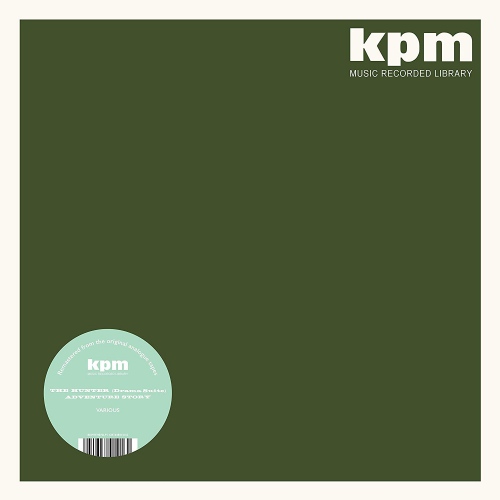 Various Artists
The Hunter
Drama suite / adventure story
Reissue of The Hunter (Drama Suite) / Adventure Story, originally released in 1975. They say: "Composite themes and incidental cues for dramatic application". Be With Records say: Well, it's definitely dramatic. No wonder this LP was mined by a multitude of '70s and '80s crime shows. Much like Beat Incidental, this true gem includes a raft of enjoyable sub-ten second incidental cues alongside satisfyingly stretched out, hard-knocking sleuth-funk. The Hunter (Drama Suite) / Adventure Story is a real library-head's library album. You'll be treated to some of the best works of no less than five different heavyweights of the genre: drummer Brian Bennett, guitarist Clive Hicks (of The Gentle Rain), saxophonist Duncan Lamont, rock bassist Dave Richmond, and keyboard session giant Steve Gray. Something of a dream line-up, they each contributed stellar efforts to create one of the most sought-after of the legendary KPM albums. Both sides of this LP are dripping with insidious grooves and dramatic spy-score themes, bursting with heavy guitars, swirling flutes, creeping piano-funk, and drum breaks galore. Originally released in 1975, it's clear that these library heroes were heavily influenced by the tough funk and street soul sonics emerging from the cutting-edge Blaxploitation soundtracks. Dave Richmond's taut swagger and wah-wah guitar licks of "Nightwatch", Steve Gray's sleazy horn and clav-funk on the A-side opener "Theme For A Hunter" and Brian Bennett's rolling strut of "The Investigator" are just three of the highlights here. That last one being sampled by Jeff Jank under his Captain Funkaho guise on "My 2600" for Stones Throw back in 1999. As with all of Be With Records' KPM re-issues, the audio for The Hunter (Drama Suite) / Adventure Story comes from the original analog tapes and has been remastered by Simon Francis. Sleeve reproduction duties by Richard Robinson, the current custodian of KPM's brand identity. 180 gram vinyl.
Tracklist:
1.A1 : Theme for a Hunter
2.A2 : The Hunter (Link 1)
3.A3 : The Hunter (Link 2)
4.A4 : The Hunter (Link 3)
5.A5 : Heavy Lead
6.A6 : Uneasy Silence
7.A7 : Hideout
8.A8 : Hideout (Shock)
9.A9 : Hideout (Let Down)
10.A10 : Approach
11.A11 : Approach (Shock)
12.A12 : Approach (Sting)
13.A13 : Approach (Exclamation)
14.A14 : Flashing Knives
15.A15 : Solid Pursuit
16.A16 : Flying Squad
17.A17 : Nightwatch
18.B1 : Adventure Story
19.B2 : Adventure Story (Link 1)
20.B3 : Adventure Story (Link 2)
21.B4 : The Investigator
22.B5 : Passing Hours Suite
23.B6 : The Set Up
24.B7 : Stake Out
25.B8 : Knife Edge
26.B9 : Speed Trap
27.B10 : Speed Trap (Link)
28.B11 : Battle
29.B12 : Battle (Link 1)
30.B13 : Battle (Link 2)
31.B14 : Attack
32.B15 : Casing the Joint
33.B16 : The Foil
34.B17 : Scream
35.B18 : Meanwhile
Order vinyl:
The official Android App for upcomingvinyl.com is now available for free on Google Play.
Vinyl & Turntable Accessories
17 January 2020
/ More records