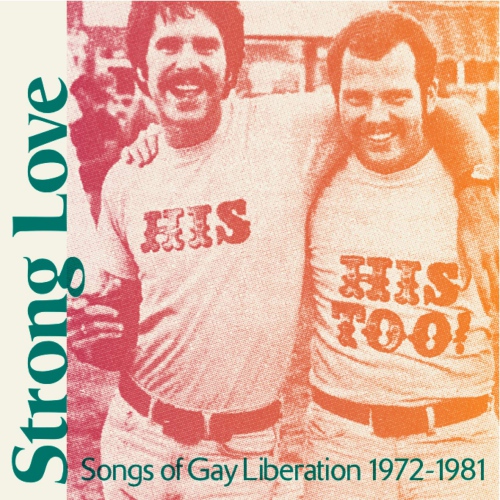 Various Artists
Strong Love: Songs Of Gay Liberation 1972-81
Originally released on CD in 2012, Chapter's landmark compilation of 70s gay musical pioneers gets a vinyl release for the first time ever - and on pink vinyl to boot! Strong Love explores the first wave of openly gay songwriting, emerging after New York's Stonewall Riots kickstarted the modern gay rights movement in 1969. It took just a few years for the defiant chanting and interlocked arms of early 70s pride marches to reverberate onto record, and Strong Love begins with the earliest known example, 1972's A Gay Song by London hippie collective Everyone Involved. Across 15 tracks, the compilation takes in disarmingly personal folk, uplifting soul, outsider country and dark synth-rock. But tellingly, none of it's songs could be considered well-known. New York's Steven Grossman released the first major label album by an openly gay artist in 1974, and Tom Robinson hit the UK Top 20 with the fiery Glad To Be Gay in 1978, but these are the exceptions. The coy ambivalence of Lou Reed and David Bowie was about as sexually adventurous as the 1970s music industry got, and most Strong Love artists released their own self-funded recordings in very limited numbers. Unlike their lesbian counterparts, who joined forces to create long-lasting record labels, strong distribution networks and considerable sales figures, gay male musicians in the 1970s existed largely in solitary bubbles. Which doesn't mean they didn't carve out niches of their own. Chris Robison played with the New York Dolls and Elephant's Memory, while LA glam seducer Smokey saw members of the Stooges and Quiet Riot pass through his backing band. Steven Grossman was covered by Twiggy and Scrumbly & Martin are infamous for their work with San Francisco drag hippies the Cockettes. Strong Love illustrate the vision, talent and raw courage that drove 1970s songwriters to sacrifice popular careers for the sake of honesty and self- expression. Compiled by Chapter Music's Guy Blackman, with an evocative introduction from drummer RIchard Dworkin (who played with Blackberri and Buena Vista), the album is a powerful tribute to pioneering artists whose music has been neglected for too long.
Tracklist:
1. Everyone Involved - a Gay Song
2. Charlie Murphy - Gay Spirit
3. Blackberri - It's Okay
4. Smokey - Strong Love
5. Robert Campbell - Dreamboy
6. Mike Cohen - Evil & Lusty
7. Lavender Country -Cryin' These Cocksucking Tears
8. Chris Robison - Big Strong Man in My Life
9. Steven Grossman - Out
10. Tom Robinson - Good to Be Gay
11. Buena Vista - Hot Magazine
12. International Gay Society - Stand Up for Your Rights
13. Scrumbly & Martin - Hots for a. Hustler
14. Paul Wagner - the One
Order vinyl:
The official Android App for upcomingvinyl.com is now available for free on Google Play.
Vinyl & Turntable Accessories
05 June 2020
/ More records