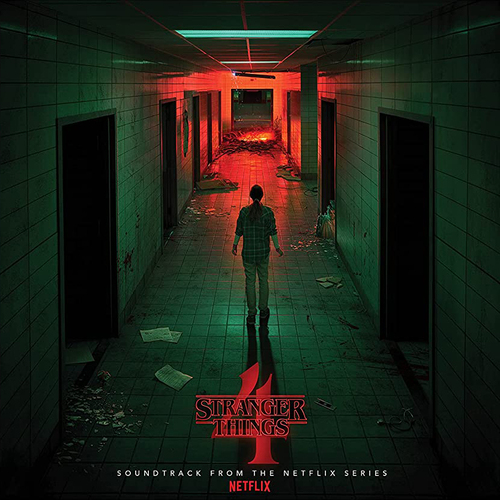 Various Artists
Stranger Things 4
(2xLP)
Soundtrack from the netflix series amazon exclusive edition;
Stranger Things: Soundtrack from the Netflix Series, Season 4 includes essential music tracks evoking various classic eras and styles as featured in "Stranger Things 4." The trailer notably features the explosive Bryce Miller/Alloy Tracks Remix of Journey's "Separate Ways (Worlds Apart)" which opens the soundtrack while a new Steve Perry & Bryce Miller Extended Remix of "Separate Ways (Worlds Apart)" closes the album with hit after hit rounding out the tracklist. From KISS' "Detroit Rock City" soundtracking an intense game of D&D to Argyle's arrival music, "Pass The Dutchie" by Musical Youth, to Kate Bush's defining track of the season "Running Up The Hill (A Deal With God)" the music featured on Season 4's soundtrack is perfectly woven into show moments to remember. The soundtrack album is conceptualized and produced by The Duffer Brothers and Nora Felder. 2-LP version comes in a gatefold package with alternate 'Lab' cover and a 'Billy Butcher' 12" x 12" lithograph.
Tracklist:
1. Separate Ways (Worlds Apart) - Journey, Steve Perry
2. California Dreamin' - The Beach Boys
3. Psycho Killer - Talking Heads
4. Running Up That Hill (A Deal with God) - Kate Bush
5. You Spin Me Round (Like a Record) - Dead Or Alive
6. Chica Mejicanita - Mae Arnette
7. Play With Me - Extreme
8. Detroit Rock City - Kiss
9. I Was A Teenage Werewolf - The Cramps
10. Pass the Dutchie - Musical Youth
11. Wipe Out - The Surfaris
12. Object Of My Desire - Starpoint
13. Rock Me Amadeus - Falco
14. Travelin' Man - Ricky Nelson
15. Tarzan Boy - Baltimora
16. Dream a Little Dream of Me - Louis Armstrong & Ella Fitzgerald
17. Rock and Roll, Hoochie Koo - Rick Derringer
18. Fire and Rain - James Taylor
19. Spellbound - Siouxsie & The Banshees
20. Master of Puppets - Metallica
21. When It's Cold I'd Like To Die - Moby
22. Separate Ways (Worlds Apart) - Journey, Steve Perry
Pre-order vinyl:
The official Android App for upcomingvinyl.com is now available for free on Google Play.
Vinyl & Turntable Accessories
More upcoming records