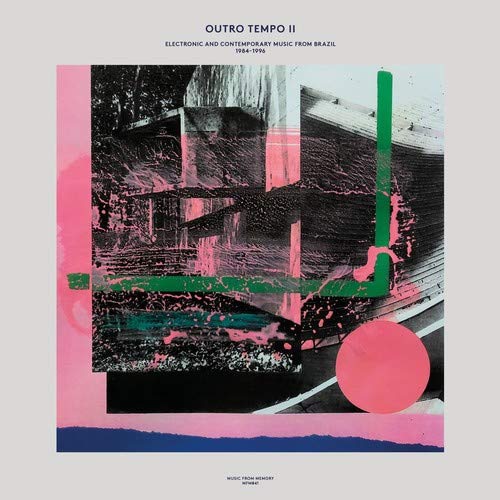 Various Artists
Outro Tempo Ii - Electronic & Contemporary Music From Brazil 1984-1996
Music From Memory has shared details of Outro Tempo II: Electronic And Contemporary Music From Brazil, 1984-1996, out on May 25th. The previously teased compilation documents a wave of experimentalism that emerged in post-dictatorship Brazil, moving the timeframe up a few years from the first collection, which spanned 1978 to 1992. By this time, the Brazilian popular music (MPB) movement had "lost it's ability to articulate the social consciousness of the era," writes Outro Tempo curator John Gomez, in the album's liner notes. "The music that had once been a vital voice of dissent became the polite face of the new democratic movement." Out of this sense of alienation emerged "an effervescent period of cultural production," he continues, that involved "alternative performance spaces, DIY modes of production and collaborations with the art world." Stylistically, this body of work spans a wide breadth of synth-pop, ambient, art rock and experimental electronics, "drifting away from the rainforest and into the pulsating heart of Brazil's immense and overpowering cities." Priscilla Ermel is the only holdover from the first Outro Tempo compilation, with volume two focusing on musicians that thrived in São Paulo's gallery scene, including Dequinha E Zaba and Fausto Fawcett. Outro Tempo II: Electronic and Contemporary Music from Brazil, 1984-1996 also includes several tracks touched by Mitar Subotic, AKA Suba. Suba, the late Yugoslavian producer whose visionary music has recently surfaced on Offen Music and Versatile Records, relocated to São Paulo in 1990, and his arrival "marked a turning point in Brazilian electronic music," Gomez writes. On Outro Tempo II, Edson Natale covers a Bosnian song called "Nina Maika," which Suba, his frequent collaborator, introduced to him. A track from Angel's Breath, a group featuring Suba, Milan Mladenovic´ and Joa~o Parahyba, also appears on the 20-track collection.
Tracklist:
1.May East - Maraka
2.Dequinha E Zaba - Preposições
3.Oharaska - a Fábula
4.Fausto Fawcett - Shopping de Voodoos
5.R. H. Jackson - O Gato de Schrödinger
6.Edson Natale - Nina Maika
7.Akira S - Tokei
8.Low Key Hackers - Emotionless
9.Chance - Samba Do Morro
10.Jorge Degas & Marcelo Salazar - Ilha Grande
11.Priscilla Ermel - Americua
12.Voluntários Da Pátria - Marcha
13.Angel's Breath - Velvet
14.Fausto Fawcett - Império Dos Sentidos
15.Chance - Intro-Amazônia
16.Tetê Espíndola - Quero-Quero
17.Nelson Angelo - Harmonía de Água
18.Jorge Mello - a Natureza Reza
19.Júlio Pimentel - Gersal
20.Tião Neto - Carrousel
Order vinyl:
The official Android App for upcomingvinyl.com is now available for free on Google Play.
Vinyl & Turntable Accessories
21 June 2019
/ More records