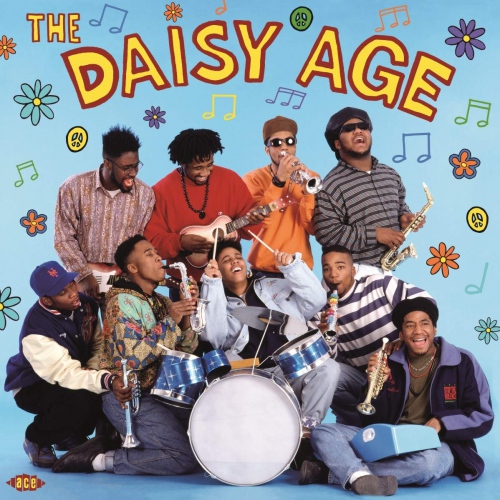 Various Artists
Daisy Age / Various
(2xLP)
2LP. It wasn't really a movement, barely even a moment, but the Daisy Age was an ethos that permeated pop, R&B and hip hop at the turn of the 90s. Playfulness and good humour were central to de la Soul's 1989 debut album, "3 Feet High And Rising", which would go on to cast a long, multi-coloured shadow over rap. In Britain, the timing for "3 Feet High And Rising" couldn't have been better. The acid house explosion of 1988 would lead to a radical breaking down of musical barriers in 1989, and it's associated look - loose clothing, dayglo colours, smiley faces - chimed with the positivity of de la Soul and rising New York rap acts the Jungle Brothers and A Tribe Called Quest, all at the heart of a growing collective called Native Tongues. The Native Tongues' charismatic, summery aura quickly spread west to the Bay Area's similarly-minded Hieroglyphics crew (Del Tha Funky Homosapien's 'Mistadobalina'); Canada's Dream Warriors ('My Definition Of A Boombastic Jazz Style') used "3 Feet High"'s colour palette and borrowed Count Basie and Quincy Jones riffs; Naughty By Nature (OPP) were mentored by Native Tongues heroine Queen Latifah, while Londoner Monie Love was also adopted by the collective, resulting in her Grammy-nominated 'It's A Shame (My Sister)'. It wasn't built to last, but the Daisy Age reintroduced Multiplication Rock, bubble writing and the gently psychedelic into the charts. It was a brief, but extraordinarily warm and optimistic moment. The songs on this collection promised that the 90s would be a lot more easy-going than the 80s.
Tracklist:
1. A Roller Skating Jam Named Saturdays - de la Soul Featuring Q-Tip & Vinia Mojica
2. Bonita Applebum - a Tribe Called Quest
3. Sunshine Men - the Freestyle Fellowship
4. Mistadobalina - Del Tha Funkeé Homosapien
5. What's Up Doc? (Can We Rock?) (K-Cut's Fat Trac Remix) - Fu-Schnickens with Shaquille O'Neal (Shaq-Fu)
6. Doowutchyalike - Digital Underground
7. Peachfuzz - KMD
8. Doin' Our Own Dang - Jungle Brothers
9. Mama Gave Birth to the Soul Children - Queen Latifah Featuring de la Soul
10. O.P.P. - Naughty By Nature
11. Where I'm from - Digable Planets
12. It's a Shame (My Sister) - Monie Love Featuring True Image
13. K Sera Sera - Justin Warfield
14. All for One - Brand Nubian
15. Case of the P.T.A. - Leaders of the New School
16. My Definition of a Boombastic Jazz Style (Album Version) - Dream Warriors
17. The Choice Is Yours (Revisited) - Black Sheep
18. Age Ain't Nothin' But a # - Chi-Ali
19. We Run Things (It's Like Dat) - Da Bush Babees
20. You're Not Coming Home (Mase's Funkay Recall Mix) - Groove Garden
Order vinyl:
The official Android App for upcomingvinyl.com is now available for free on Google Play.
Vinyl & Turntable Accessories
06 September 2019
/ More records