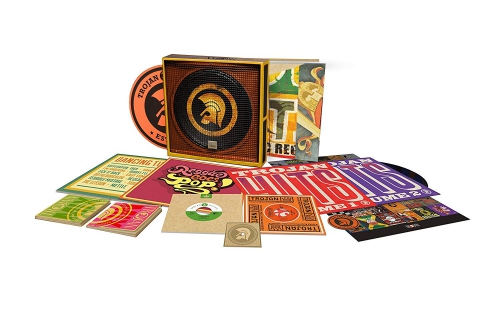 The Trojan Records Boxset
The Trojan Records
(12xLP)
"Boxset: • 4 vinyl LPs, showcasing the hits, rarities and rare 'commercial reggae' tracks • Two 7" singles, highlighting previously unreleased and brand new recordings • Two 3CD collections, featuring a total of over 130 tracks with 69 make their digital debut • A 100+ page book featuring essays and full scale reproductions of 50 of the most iconic Trojan album sleeves from the past 50 years • High quality Trojan slipmat • Stunning A2 poster • Stylish Trojan patch • Wooden Trojan 7" single adapter Launched in the summer of 1968, Trojan Records was instrumental in introducing the sound of reggae to the world at large. By the mid-Seventies, the label had enjoyed over 30 significant mainstream chart hits by such illustrious performers as Desmond Dekker, the Maytals, Bob & Marcia, John Holt, Ken Boothe, Dave & Ansel Collins, the Pioneers – and many, many more. Alongside these major successes, Trojan showcased the work of literally hundreds of Jamaican music makers, from artists whose careers remain shrouded in mystery to future international recording stars. Over the years since its creation, the iconic label has continued to grow and develop, attracting new fans with each new generation. 2018 witnesses Trojan's half centenary and to celebrate this most momentous of years comes a super deluxe multi-format box set, which reflects the amazing diversity of the label's output over the past 50 years. Presented on an array of vinyl and CD titles are all the major UK hits, numerous Jamaican best-sellers, hundreds of rarities that see issue for the first time in decades, and two brand new recordings by British dancehall don, Tippa Irie. In addition, the set includes an array of essential items, including a stunning book on Trojan album sleeve artwork and variety of stylish accessories. With mainstream media heavily focused upon Trojan Records throughout this historic year for the label, the set will receive widespread attention from a range of noted publications and national radio. The collection will also be comprehensively publicised through all of Trojan's social media platforms, including its website, facebook, twitter, Instagram, spotify and monthly newsletter. "
Tracklist:
1.Red Red Wine
2.Return of Django
3.Skinhead Moonstomp
4.Long Shot Kick De Bucket
5.Liquidator
6.Sweet Sensation
7.To Be Young Gifted and Black
8.Monkey Man
9.Love of the Common People
10.You Can Get It If You Really Want
11.Black Pearl
12.Double Barrel
13.Rain
14.Pied Piper
15.Black and White
16.Monkey Spanner
17.Let Your Yeah Be Yeah
18.Moon River
19.Give and Take (Give a Little, Take a Little)
20.I Am What I Am
21.Suzanne Beware of the Devil
22.Big Seven
23.Everything I Own
24.Help Me Make It Through the Night
25.Sufferation 1969
26.Dancing Time
27.I?m Shocking
28.(Baby) I'll Be Yours
29.Lick It Back
30.Easy Come Easy Go (Alternate Take)
31.Do the Boogaloo
32.Soul Love
33.Reggae to Jeggae
34.Terrible Mistake
35.The Lesson
36.Mettle
37.What Am I to Do
38.Got to Come Back
39.Feel a Little Better
40.Fire and Rain
41.Lonely Man
42.Weep
43.Funny
44.Working On It Night and Day
45.A Little Bit of Soap
46.Lord Pity Us All
47.Come On Girl
48.You Have Caught Me
49.The Little That You Have
50.Thunderstorm
51.This Life Makes Me Wonder
52.Mind Yourself
53.Denver
54.Pickney Gal
55.Bread On the Table
56.Sugar Cane
57.Montego Bay
58.Off Limits
59.Sir Collins Special
60.Brandy
61.Chopsticks
62.Hysteriacide
63.Tchaikovsky's Piano Concerto No. 1
64.Big Six
65.Think About That
66.Ain't It Groovy
67.Big Eight
68.Behold
69.We Are Not the Same
70.Passing Strangers
71.Crying Over You
72.This Monday Morning Feeling
73.Running Over
74.Nothing Is Impossible
75.The Voice of the Father
76.Nyah Dread
77.White Bird Come Down
78.Show I the Way
79.Fight Down I
80.Another Moses
81.We've Got to Part
82.My Love for You Is Over Now
83.I Don't Want to Be a Beggar
84.Jah Jah I
85.African Woman
86.Key of Keys
87.The Slave Trade
88.Peace Pipe Dub
89.Stranger in Love
90.Happiness
91.Dignity & Principle
92.I'm Still In Love With You Girl
93.Opportunity
94.Segregation
95.Right Road to Zion
96.Let's Spend the Night Together
97.Tell the Children the Truth
98.Barberman Bawling
99.Nothing Gained (From Loving You)
100.Why Won't You Come On
101.Liquid Horns
102.Ghetto-Ology
103.We've Got to Make It
104.How Can a Man Be Happy
105.Fight, Fight, Fight
106.Take Five
107.Time Is Important to Me
108.Give to the Poor
109.Killerman Jarrett
110.Sensi for Sale
111.Pirate
112.Dancing Shoes
113.(Who Is He) What Is Man
114.Jailhouse
115.Original Man
116.Ska Beat
117.Who La La
118.Party Tonight
119.Girls Galore
120.Time Marches On (Alternate Version)
121.Creature from the Moon
122.Too Experienced (Alternate Version)
123.Girl I've Got a Date
124.Green River
125.My Desire
126.Dread It
127.Tennessee Waltz
128.Do the Moonwalk
129.Hey Jude (Alternate Take)
130.Deep in My Soul
131.Sycilidin
132.Wide a Wake In a Dream
133.Bush Beat
134.Just My Imagination (Alternate Version)
135.Soul Inspiration
136.Loving Feeling
137.Old Man River
138.Lonely for Your Love
139.Niki Hoeky
140.You Have to Pay
141.Having a Party
142.Nana
143.You Know What I Mean
144.Burial of Longshot, Part 2
145.Whisper a Little Prayer
146.Angel
147.Piccadilly Hop
148.Everytime
149.You, Yes You
150.Don't Play That Song
151.Equal Rights
152.Crazy Rhythm
153.Love You the Most
154.I'll Be Right There
155.Little Boy Blue
156.Africa Is Paradise
157.A Little Love
158.I'll Be There
159.Lollipop Girl
160.Bogus-ism
161.Sounds of Babylon
162.My Best Dress
163.(Woman) Don't Try to Use Me
164.You're the One I Love
165.Darling Dry Your Eyes
166.Donkey Returns
167.The Bullet
168.Fire Corner
169.Put a Little Love in Your Heart
170.Wear You to the Ball
171.You Can't Wine
172.She Want It
173.Satisfaction
174.What Greater Love
175.54-46 Was My Number
176.Blood and Fire
177.East of the River Nile
178.Follow the Leader
179.Mother and Child Reunion
180.The Further You Look (The Less You See)
181.Money In My Pocket
182.Lonely Woman
183.S.90 Skank
184.Stalag 17
185.Fire Burning
186.None Shall Escape the Judgement
187.Love Is Overdue
188.Hurt so Good
189.Sad and Lonely
190.Keep It Like It Is
191.Real Reggae Music (feat. Tippa Irie)
Order vinyl:
The official Android App for upcomingvinyl.com is now available for free on Google Play.
Vinyl & Turntable Accessories
10 August 2018
/ More records