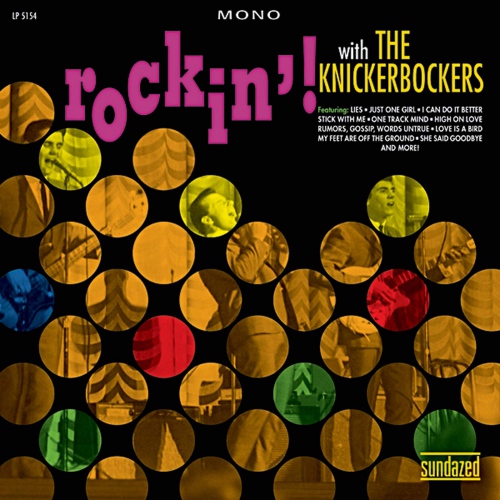 The Knickerbockers
Rockin'! With The Knickerbockers
Exploding from AM radio speakers everywhere in 1965, The Knickerbockers Lies is a certified 60s classic. Much has been made over its sonic similarity to the Beatles, particularly the Lennon-esque lead vocals. True, it is remarkable in that regard but what is often overlooked is just how GREAT the song is in its own right. Written by band members Beau Charles and Buddy Randell, it is a superbly crafted composition that could have been a hit for any number of artists. That the Knickerbockers? ferocious version sounds like it was ripped from the soundtrack to A Hard Days Night is just gravy. But great as it is, there is so much more to the band?s story than their biggest hit.\n\nBrothers John and Beau Charles formed the band in Bergenfield, New Jersey in 1962. Bobby played bass, Beau played guitar and they both sang. They moved through various group personnel, eventually solidifying the lineup with vocalist/saxophonist Bobby Randell and drummer Jimmy Walker. Both of the new recruits already had recording experience, Randall with the Royal Teens (Short Shorts) and Walker with The Castle Kings (You Can Get Him Frankenstein). Together, the quartet forged their sound as they filled the dance floors on the tough east coast club circuit. While playing the University Twist Palace in Albany, New York, they were spotted by producer and artist Jerry Fuller, who subsequently signed them to Challenge Records in Hollywood.\n\nAfter recording two non-charting singles for the label, the groups third, Lies, burst into the Top Twenty. Songwriters Keith and Linda Colley provided the follow-up single, One Track Mind, a relentlessly upbeat song that stalled at #45. They tried again with another Colley track, High On Love, piled high with stacked vocals and fuzz-fortified guitars, but it failed to chart. While the group was consistently making top-notch records, their label was struggling. Without adequate distribution and promotional muscle to compete with bigger indies and the major labels, the Knickerbockers records suffered diminishing returns despite their extremely high quality. Just listen to their vocal arrangement on I Can Do It Better. Written by future 70s superstars Jimmy Seals and Dash Crofts, it was yet another single that begged comparisons to the top hit makers of the day. The group gamely carried on despite their lack of chart success, appearing in the film Out of Sight and making regular appearances on ABCs Where the Action Is.\n\nSadly, they soon encountered more hurdles. Jimmy Walker left the band in late 1967 to replace Bill Medley in the Righteous Brothers and Challenge Records went out of business soon thereafter. The group carried on for a while with replacement members but disbanded in 1972. Thankfully, Sundazed went straight to the original Challenge analog mono masters and compiled Rockin With the Knickerbockers. This amazing album is a true celebration of one of the most criminally underrated groups of all time. Loaded with their best singles and album cuts, its rockin from beginning to end!
Tracklist:
1. Lies
2. Just One Girl
3. I Can Do It Better
4. She Said Goodbye
5. Stick With Me
6. Love Is A Bird
7. I Love
8. One Track Mind
9. I Must Be Doing Something Right
10. High On Love
11. They Ran For Their Lives
12. Rumors, Gossip, Words Untrue
13. My Feet Are Off The Ground
14. Give A Little Bit
Order vinyl:
The official Android App for upcomingvinyl.com is now available for free on Google Play.
Vinyl & Turntable Accessories
15 March 2019
/ More records