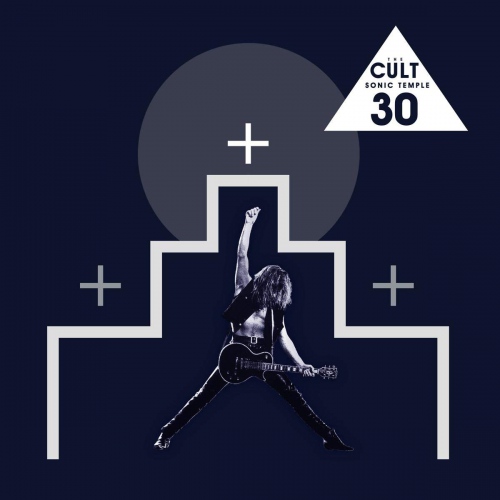 The Cult
Sonic Temple 30Th Anniversary Deluxe
(4xLP)
2019 marks the 30th anniversary of The Cult's seminal album SONIC TEMPLE. To celebrate the anniversary, Beggars Arkive will release THE CULT: SONIC TEMPLE 30 on September 13th. It will be released as a deluxe box set and a 5-CD set, and we are also reissuing Sonic Temple on Double LP, which has been out of print for over 20 years. Originally released in 1989, Sonic Temple proved to be a pivotal moment for The Cult. Produced by the legendary Bob Rock, Sonic Temple had four chart- topping singles; "Fire Woman", "Edie (Ciao Baby)", "Sun King" and "Sweet Soul Sister".The album catapulted The Cult into superstar status and remains their most commercially successful release. It has sold over 1.5 million copies in the US alone, and was declared platinum in 1990. The BOX SET contains three pieces of vinyl and a cassette plus tour memorabilia and ephemera (replica of original laminate, backstage pass, original press releases and label copy and more). It's numbered and limited to 3000 pieces worldwide and contains 40 tracks, 4 of which are previously unreleased. LP1+2 contain the album as originally released + b-sides. LP3 contains Live At Wembley recorded by the BBC, and the include cassette contains limited- release demos. Four of the live tracks are previously unreleased. The FIVE-CD SET contains 53 tracks (including 6 previously unreleased) with the original album on disc 1, alternate edits, mixes, extended versions and acoustic versions on disc 2, limit- ed-release demos on discs 3 & 4 and Live at Wembley recorded by the BBC on disc 5. Six of the live tracks are previously unreleased. It is beautifully packaged in book form with rare photo- graphs and interviews with the band by journalist James Brown.
Tracklist:
1.Sun King
2.Fire Woman
3.American Horse
4.Edie (Ciao Baby)
5.Sweet Soul Sister
6.Soul Asylum
7.New York City
8.Automatic Blues
9.Soldier Blue
10.Wake Up Time For Freedom
11.Medicine Train
12.The River
13.Bleeding Heart Graffitti
14.Messin' Up The Blues
15.Fire Woman (NYC Rock Mix)
16.Edie (Ciao Baby) (Acoustic)
17.New York City (Live At Wembly)
18.Automatic Blues (Live At Wembly)
19.American Horse (Live At Wembly)
20.Sun King (Live At Wembly)
21.Soul Asylum (Live At Wembly)
22.Sweet Soul Sister (Live At Wembly)
23.Fire Woman (Live At Wembly)
24.Sonic Temple Radio Promo
25.New York City (demo)
26.American Horse (demo)
27.Sun King (demo)
28.Automatic Blues (demo)
29.Yes Man (demo)
30.Wake Up Time For Freedom (demo)
31.Citadel (demo)
32.The River (demo)
33.The Crystal Ocean (demo)
34.Cashmere (demo)
35.Edie (Ciao Baby) (demo)
36.Bleeding Heart Revival
37.Star Child (demo)
38.Medicine Train (Rock Demo)
39.New York City (Rock Demo)
40.Fire (Woman) (Rock Demo)
Order vinyl:
The official Android App for upcomingvinyl.com is now available for free on Google Play.
Vinyl & Turntable Accessories
13 September 2019
/ More records