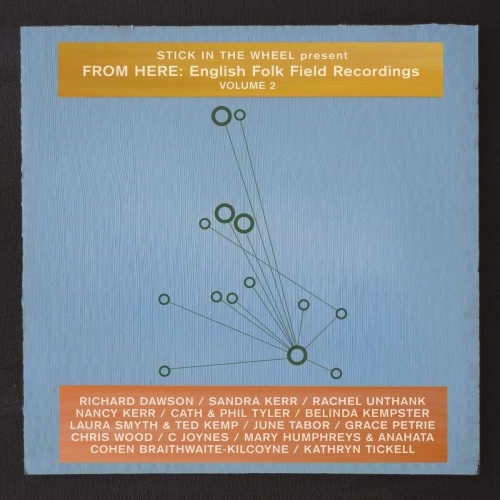 Stick In The Wheel
From Here: English Folk Field Recordings Vol. 2
Once again, Ian Carter and Nicola Kearey of Stick In The Wheel took up their recording equipment and ventured to new places within England, both physically and metaphorically. Asking folk and traditional musicians what 'From Here' meant to them: this impulse to make music - From Here - where does it come from? What does it mean to be making this music in 2019, using the framework of English traditional music and culture? England is divided, and we may well look to the past to make sense of the future - in such times of chaos and political uncertainty, these are timely questions. "The more we travelled the less we found we knew. At every turn, surprising, frustrating. And identity to grasp, or to push away. To try and understand who we are, where we are going, where we came from. Now more than ever, our identity is important, this culture and canon of music is a living, breathing thing, to be respected and taken seriously." Nicola Kearey A snapshot of the English folk scene right now - from seasoned professionals to folk club singers, everyone and valid. Recorded on location, in front rooms and kitchens with two pairs of microphones, capturing immediate, intimate, yet powerful and evocative performances. This is not the collecting of songs to fit a pre-determined view of what folk music "should" be - rather, an attempt at documenting of what it is - a continuum that thrives, flourishes and persists in this country. From old Northumbrian kingdoms, through the Midlands, way over to the Welsh border, with an expanding set of experimental and traditional musicians interpreting the music that roots them, in their own unique ways. Songs and tunes reflecting everyday life in England: from racing pigeonsto lost children, domestic violence to political street fighting. This is each artist's response to what From Here means to them, by way of identity or place, feeling or memory: "this is who I am, this is where I'm from".
Tracklist:
1. Nancy Kerr - Gan Tae the Kye / Peacock Followed the Hen
2. Rachel Unthank - the Sandgate Dandling Song
3. C Joynes - Cottenham Medley
4. Richard Dawson - the Almsgiver
5. Cath & Phil Tyler - Ladle/Richmond
6. Mary Humphreys & Anahata - Barbara Allen
7. June Tabor - the King of Rome
8. Laura Smyth & Ted Kemp - Adieu Sweet Lovely Nancy
9. Cohen Braithwaite-Kilcoyne - Two Lovely Black Eyes
10. Grace Petrie - a Young Woman's Tale
11. Belinda Kempster - Nightingales
12. Kathryn Tickell - Bonnie Pit Laddie/Lads of Alnwick
13. Chris Wood - So Much to Defend
14. Sandra & Nancy Kerr - Nancy Clough
Order vinyl:
The official Android App for upcomingvinyl.com is now available for free on Google Play.
Vinyl & Turntable Accessories
19 April 2019
/ More records