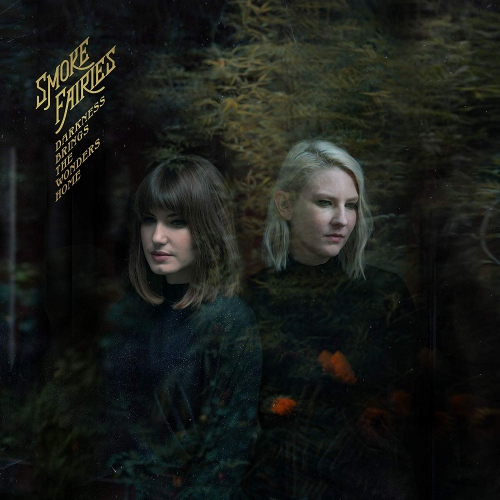 Smoke Fairies
Darkness Brings The Wonders Home
Smoke Fairies will release their first album in four years. 'Darkness Brings The Wonders Home' will be released on January 31st coupled with new tour dates for the band. The first single to be taken from the album 'Disconnect' is now available on all streaming platforms. Jessica and Katherine travelled to Seattle to record Darkness Brings The Wonders Home with producer Phil Ek (The Black Angels, Fleet Foxes, The Shins) and over the course of a rigorous month-long session in Seattle, adopted a purposely intimate approach to achieving a singular sonic tone. In the making of Darkness Brings The Wonders Home, Smoke Fairies drew inspiration from mysteries both real and imagined: sea monsters, flocks of crows taking flight in extravagant formation, strange creatures dwelling in the mud near their new South London abode. 'Times of darkness are when people are often the most imaginative,' says Jessica Davies in reflecting on the album's title. 'It helps you to see all the wonders of the world you hadn't noticed before - the things you've been blind to because you've been on autopilot for so long. 'Produced by Phil Ek (Fleet Foxes, The Black Angels, The Shins), Darkness Brings The Wonders Home merges Smoke Fairies' musings and meditations with a decidedly guitar-driven sound, the duo's unearthly harmonies endlessly floating atop lead-heavy riffs. Over the course of a rigorous month-long session in Seattle, Smoke Fairies adopted a purposely intimate approach to achieving that singular sonic tone. Standard Vinyl: heavyweight 180g black vinyl LPJacket: 3mm spined sleeve and printed innerMastered by: Paul Blakemore, Concord Music Group - Cleveland, OHManufactured by: United Record PressingPress: Erika Tooker PRFirst single 'Disconnected", listen: https://youtu. Be/6hyYbqs6lJIFirst official video 'Out Of The Woods', watch: https://youtu. Be/-XtPP3Ewe-MU. S. tour dates for 2020 to be announced soon. 'Blamire and Davies don't trade vocal duties so much as appear to sing from the same body, their voices nearly indistinguishable, shifting between smoky moans and toe-curling trills' - Pitchfork'Smoke Fairies rely on intertwining... their two voices move in close harmonies, with timbres blending almost like sisters. ' - New York Timeshttp://www. #smokefairies. com/https://www. #facebook. com/SmokeFairies/https://twitter. #com/smokefairieshttps://soundcloud. #com/smokefairieshttps://www. #instagram. com/smokefairieshttps://www. #youtube. com/user/smokefairies
Tracklist:
1. On The Wing
2. Elevator
3. Disconnect
4. Coffee Shop Blues
5. Left To Roll
6. Out Of The Woods
7. Chocolate Rabbit
8. Chew Your Bones
9. Don't You Want To Spiral Out Of Control?
10. Super Tremolo
Order vinyl:
The official Android App for upcomingvinyl.com is now available for free on Google Play.
Vinyl & Turntable Accessories
14 February 2020
/ More records