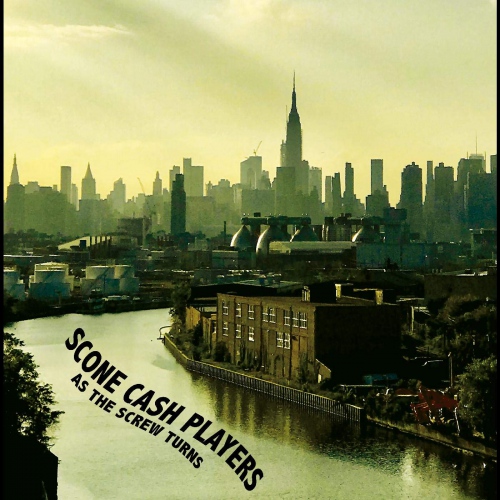 Scone Cash Players
As The Screw Turns
SCONE CASH PLAYERS bring a star studded ALL STAR album to the listeners of the world with AS THE SCREW TURNS. It is truly a pleasure to have the legend NAOMI SHELTON guest star on a dynamic track about how the world could be. We introduce the force of nature JASON JOSHUA on 3 of the most driving and poignant songs of the modern day. The brilliant JOHN DOKES delivers a holiday song that you will never forget. You can get the screws turned on you. This is the predicament that the SCONE CASH PLAYERS find themselves in. Even with the myriad of talent on this record, it is not immune. What does that mean exactly? The dictionary definition goes along the lines of this. To put pressure on in order to defeat or get somebody to do what you want. Life can be like that. New York City can be like that. There are never ending bills to pay. Your money fell out of your sock. You dream big however, your house is small. Despite any variety of situations, we are here with the music & we are going to survive. Who knows? Maybe we can even turn the screws back a bit and have a laugh or two.ADAM SCONEs idea for the album came together while traveling on the road with the SHARON JONES & SUGARMAN 3 on the DAPTONE Soul Revue tour of Europe. SCONE was on the bus with CHARLES BRADLEY and HIS EXTRAORDINAIRES. Hearing CAITO SANCHEZ on Drums and ALEX CHAKOUR on Guitar night after night for 3 weeks left a lasting impression. Mix that with the worlds most in demand horn section, IAN HENDRICKSON-SMITH and DAVE GUY from the DAP-KINGS, THE ROOTS & the TONIGHT SHOW with JIMMY FALLON. You have this album right here. When they put the screws on you, you have to dig deep. The Hammond Organ gets into it here on this epic journey of DREAMS - LOVE - LOSS - HAPPINESS & HARDSHIPS. They twist tight and turn, but we still have to believe. HOPE FOR A BETTER FUTURE. MAKE THIS WORLD A BETTER PLACE. THIS IS OUR HEART ON WAX.
Tracklist:
1. As The Screw Turns
2. Bokum Hi
3. My House Is Small (But I Dream Big)
4. Dr. Red Teeth
5. The Opportunist
6. Canned Champagne
7. They Say It's Christmas Time
8. Smoke And Nails
9. Brass Tacks
10. The Crown Divide
Order vinyl:
The official Android App for upcomingvinyl.com is now available for free on Google Play.
Vinyl & Turntable Accessories
21 June 2019
/ More records