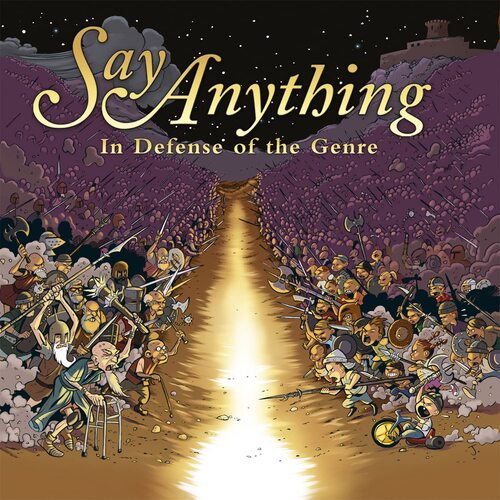 Say Anything
In Defense Of The Genre
(2xLP)
Numbered edition on 180-gram audiophile black vinyl in a gatefold sleeve including 4-page booklet & cover art by Jeff Smith, creator of the multiple award-winning comic series "Bone." In 2000, Max Bernis formed the American rock band Say Anything together with some friends. Up until 2018, when the band went on a hiatus, they released eight studio albums. In 2007 they released their third studio album In Defense of the Genre. Bernis mentioned on the album that "musically, it's different, more mature and somewhat more cohesive and poppy, but darker in a whole different way". The album features 23 individual guest appearances, including Gerard Way (My Chemical Romance), Pete Yorn, Anna Waronker (That Dog), Adam Lazzara (Talking Back Sunday), Aaron Gillespie (Underoath, The Almost), Matt Skiba (Blink-182, Alkaline Trio) and Haylay Williams (Paramore) amongst others.
Tracklist:
1. Skinny, Mean Man
2. No Soul
3. That Is Why
4. Surgically Removing the Tracking Device
5. This Is F*Ing Ecstasy
6. The Church Channel
7. Shiksa (Girlfriend)
8. Baby Girl, I'm a Blur
9. Retarded in Love
10. People Like You Are Why People Like Me Exist
11. Died a Jew
12. An Insult to the Dead
13. Sorry, Dudes. My Bad
14. Spay Me
15. In Defense of the Genre
16. The Truth Is, You Should Lie with Me
17. The Word You Wield
18. Vexed
19. About Falling
20. You're the Wanker, If Anyone Is
21. Spores
22. We Killed It
23. Have at Thee!
24. Hangover Song
25. Goodbye Young Tutor, You've Now Outgrown Me
26. I Used to Have a Heart
27. Plea
Pre-order vinyl:
The official Android App for upcomingvinyl.com is now available for free on Google Play.
Vinyl & Turntable Accessories
More upcoming records