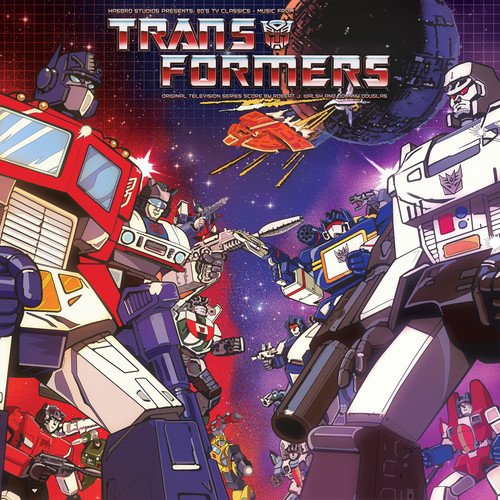 Robert J. / Douglas, Johnny Walsh
Transformers Hasbro Studio Presents '80S Tv Classics - Music From Transformers
Enjoy The Toons Records, in conjunction with Hasbro, Inc. And Sony Music/Legacy Recordings is proud to announce the release of Hasbro Studios Presents '80s TV Classics: Music from The Transformers on limited edition colored vinyl. This is the first official release of the score in any format - the album includes 45 minutes of unreleased music including the iconic opening theme song, composed Robert J. Walsh and Johnny Douglas. The album features music from seasons 1-3 of The Transformers animated series which debuted in 1984. Hasbro Studios Presents '80s TV Classics: Music from The Transformers features a mix of orchestral and '80s inspired synth tracks which have been remastered from the original tapes by composer Robert J. Walsh.
Tracklist:
1.Opening Theme Song
2.Life
3.Cybertron Sorrow
4.The Bridge to Iacon
5.Unwelcoming Committee
6.Prepare
7.Attack! Attack!
8.Decepticon Drama
9.Explore! Repair!
10.Facing Disaster
11.Ominous Discovery
12.Elements of Danger
13.Something's Wrong
14.Overcoming the Unstoppable
15.No More Worries
16.Unyielding
17.Heavy Mettle
18.Man and Machine
19.Matters and Antimatters
20.Battle Fearlessly
21.Ancient Legends
22.The March of War
23.Roll for Home
24.The Glimmer of Hope
25.Earth to Cybertron
26.Into the Jaws of Death
27.Doomed Together
28.The Wrong Readings Mean the Right Doom
29.Transformers Medley
30.Mad Planet
31.Conflict on Cassette
32.Pastoral Tranquility
33.From the Secret Files of Teletraan II
34.Separation Anxiety
35.Synthesized Magic
36.Sinister
37.Uneasy Advances
38.Epic Struggles
39.Mysterious Airs
40.Waking Nightmare
Order vinyl:
The official Android App for upcomingvinyl.com is now available for free on Google Play.
Vinyl & Turntable Accessories
10 August 2018
/ More records