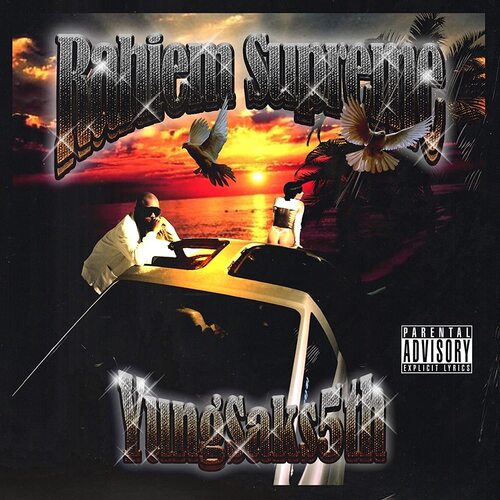 Rahiem Supreme & Wifigawd
Yung $Aks 5Th
Rahiem Supreme links up with WiFiGawd on new album YUNG $AKS 5th - a record that moves freely through old school hip hop to esoteric new school rap. Rahiem paints vivid imagery with his lyricism, reminiscent of Slick Rick's storytelling where fact meets fiction, wit and charisma. The album is produced entirely by WiFiGawd, who also features on 'Run Shh Up', alongside a guest feature from Al Divino on the opening track 'Vintage Fendi'. Both artists hail from Washington D.C. and it was inevitable they'd cross paths after bumping into each at mutual homies' studio sessions. WiFi played Raheim some of his beats, they connected instantly and the collaboration was born. Rahiem Supreme is a mainstay of the D.C hip hop scene with a serious work ethic, having already dropped four projects in 2022, alongside a number of guest features. In his 2020 interview with Passion Of The Weiss, their description was flawless - "As a lyricist, he attains a visual quality by stacking images on top of one another, making for self-contained scenes which, taken together, evoke a pimp's wonderland of European fashion, Japanese coupes, and blaxploitation-era riches. If there's an element of escapism to Supreme's verses-the funhouse mirror version of frequent collaborator Ankhlejohn's dour, crime-infested underworld-they're grounded by his autobiographical material which captures a rough-and-tumble mid-Atlantic childhood without self-pity or clean resolution." Rahiem has previously collaborated with the likes of Fly Anakin, YUNGMORPHEUS, Ankhlejohn, Obijuan, Sadhugold, Ohbliv & Lean Low. WiFiGawd has an energy and spirit that is almost unrivaled. After gaining momentum on SoundCloud in the mid 2010s, WifiGawd has reached far beyond the platform. With non-stop projects and collaborations, WiFiGawd's unrelenting creativity has been channeled into his music, championed by Earl Sweatshirt who brought him out on stage when he last played in Washington D.C. WiFiGawd has previously worked with Soudiere, Tony Seltzer, Wiki and Trippjones.
Tracklist:
1. Vintage Fendi Feat. Al Divino
2. Drifting in the Rain
3. Interesting Specimen
4. Feel the Blues
5. Mighty Microphone
6. Would Neva Kno
7. Run SHH Up Feat. Wifigawd
8. Spankin 'Em
9. My Love Language
10. Type Time I'm on
11. God Bless the Dead
12. Necessary
Order vinyl:
The official Android App for upcomingvinyl.com is now available for free on Google Play.
Vinyl & Turntable Accessories
More upcoming records