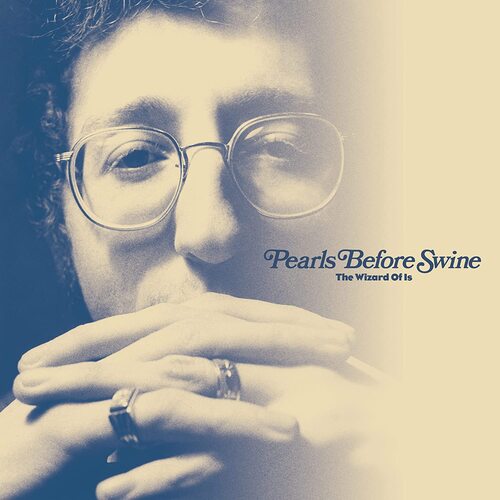 Pearls Before Swine
The Wizard Of Is
(2xLP)
Remastered and re-appraised 31-track collection of Pearls Before Swine rarities from the private tape collection of the late, great Tom Rapp."Extremely influential." Rolling StoneFor the first time on vinyl, this beautiful collection brings together alternate versions of Rapp originals 'The Jeweler', 'Translucent Carriages' and 'Rocket Man'. It also includes jaw-dropping covers of Rapp's contemporaries Cohen, Dylan and Joni Mitchell, with bonus download material featuring seven amazing live versions plus a never before released intimate show at The Other End circa 1976."A more intoxicating version of folk psychedelia." Wire magazineA goldmine of possibilities from a prospector with a silver tongue and stories to tell. 'The Wizard Of Is' is a weird and wonderful trip inside it's creator's mind, from sonnets and space hymns to stories of revolution and the war. It's an American Gothic fantasy that straddles old time America and the outer edges of an imagined stratosphere.
Tracklist:
1. Where Is Love?
2. Butterflies (Alternate Version)
3. Love, You Are Not Alone
4. Grace Street
5. Translucent Carriages (Alternate Version)
6. Space
7. Rocket Man (Alternate Version)
8. City of Gold (Alternate Version)
9. For Free
10. Wizard of Is (Alternate Version)
11. Riegal (Alternate Version)
12. Sail Away (Alternate Version)
13. Footnote/When the War Began
14. Everybody's Got Pain (Alternate Version)
15. Crawling Towards Bethlehem
16. I'm Going to the City (Alternate Version)
17. Can't Go Back
18. Prisoner of War
19. Another Time (Alternate Version)
20. If You Don't Want to (I Don't Mind) (Alternate Version)
21. (Oh Dear) Miss Morse (Alternate Version)
22. The Jeweler (Alternate Version)
23. The Lincoln Dream
24. There's No Other (Like My Baby)
25. Roadside Hotel
26. Song About a Rose (Alternate Version)
27. Mary Mary
28. Crew Man
29. Suzanne
30. Oh Sister
31. Full Fathom Five/I Shall Not Care
Pre-order vinyl:
The official Android App for upcomingvinyl.com is now available for free on Google Play.
Vinyl & Turntable Accessories
More upcoming records