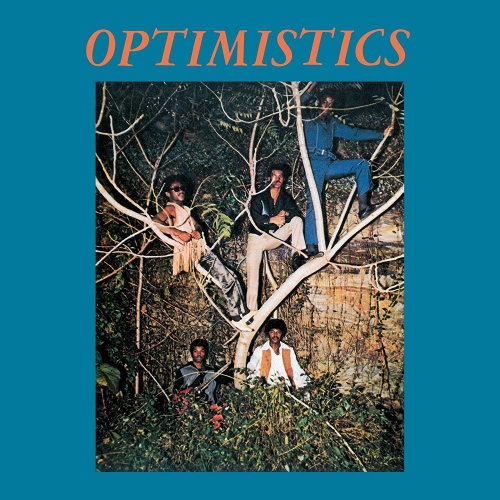 Optimistics
Optimistics
Be With Records present a reissue of Optimistics' self-titled album, originally released in 1970. This is some serious top-shelf material out of Baltimore and a certified masterclass in sweet symphonic soul. Optimistics was originally released in 1970 on Turbo and it's every bit as essential as The Chi-Lites, The Delfonics, and The Moments yet nowhere near as known. Those original copies are ridiculously rare and, of course, the prices are equally ridiculous. Optimistics is a killer LP throughout, beloved of discerning hip-hop producers worldwide and routinely championed by the legendary Pete Rock. The genius George Kerr has handled the production on what is an album of beautiful, naïve soul for mind and body. It radiates a heart-breaking ambience that cuts right to the core. The band of Billy, Harold, James, Charles, and Jerome are described on the back cover as "five young, black knights who have embarked on a musical crusade and they're gonna slay a lot of dragons along the way". It's not entirely known how many mythical serpents were dispatched during the making of this album but we can certainly attest to the sense of evangelical drive. Evergreen opener "You Put Something New In My Life" is a heart-stopping ode to a transformative love. A ballad with spine-tingling chord changes and melodic switch-ups to spare, it's sweeping strings and precise drums complement the falsetto delivery perfectly. It's followed by the equally beguiling "Let's Love". Another string-drenched harmony ballad, it revolves around delicate piano and distinctive guitar lines, crying out to be recontextualized by the best sampling technicians. Closing out the A side, the wonderfully restrained "Love Is God Almighty" is harp and horn-driven, barely-there soul from a higher plain. Ushering in the flipside, "Should I Let Myself Go", sampled recently by Knxwledge, is sensational guitar-soul with a yearning that could bring the most hardened soul to tears. It's followed by the up-tempo, Temptations-funk of "Man" and quietly-great "If I Could Influence Man", where the competing vocals ride a chugging, funky breakbeat and delicious guitar licks. The refreshing, groovy "Say It Baby" is an appropriately positive, upward looking closer. It's sentiment and feel speaks directly to both the band name and the title of this, their only album. The whole LP is a winning blend of slow, spine-tingling ballads, and joyously upbeat tracks. Artwork reproduced by Be With Records. Mastered by Simon Francis; cut by Pete Norman.
Tracklist:
1.You Put Something New in My Life (03:00)
2.Let's Love (03:49)
3.Love Is God Almighty (04:39)
4.Should I Let Myself Go (04:13)
5.Man (03:13)
6.If I Could Influence Man (02:56)
7.Say It Baby (02:40)
Order vinyl:
The official Android App for upcomingvinyl.com is now available for free on Google Play.
Vinyl & Turntable Accessories
06 December 2019
/ More records