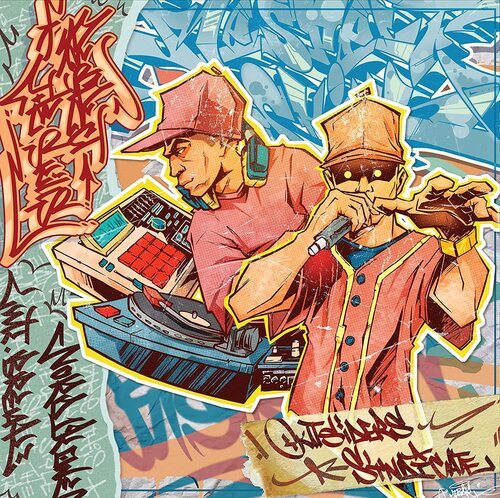 Nord1Kone / Lmt. Break
Respect The Skills
Bay Area MC/producer duo Nord1kone & LMT Break pay homage and pave a new way forward with their new album "Respect The Skills", dropping on Black Buffalo Records. The 21-track epic features Cyph4, Dierek, El Da Sensei (Artifacts), IQ, Lee Ricks and fellow Outsiders Syndicate members DJ MROK, The I.M.F. and Jimmy Beatz. Their first recording together yielded their foundational song "Respect The Skills", which appears on this album in remix form. In subsequent sessions, the chemistry between Nord1kone, LMT. Break and The I.M.F. was obvious, and soon afterwards the three of them made the partnership official with the foundation of Outsiders Syndicate. One of the signatures of OS is a genuine appreciation for each other's talents, and over the years this philosophy led more heads to join the fray; emcee Jimmy Beatz, producers MROK and Chef Mike, and recent additions AO Lyrical and Dee-Forth. The "Respect The Skills" project echoes this same spirit, and powerful features from El Da Sensei, Cyph4 and more carry the same ethos. Nord1kone holds it down throughout the 21 tracks, showing range and command as he navigates topics and landscapes. Sonically, the project covers plenty of ground, from the bright and bouncy "Knock Knock" to the dramatic and washed-out "The Concept", and LMT. Break continually finds new ways to complement Nord1kone's variety of styles on the mic. The two-man unit and their close collaborators have continually expressed what an honor it is to be releasing music through Black Buffalo Records and Fat Beats, and are keeping their noses to the grind to get this album in everyone's ears.
Tracklist:
1. Sound of the Syndicate
2. Smoke Signals
3. Knock Knock
4. From the Syndicate
5. Now You Know
6. I Double L PT 2
7. Progression
8. When I Bust
9. Mind Calibration
10. The Elements
11. The Concept
12. Deep Earth
13. Mr Mathematical
14. Enter the Cypher
15. The Lab
16. High Velocity
17. Like That
18. Brick By Brick
19. Tech N Style
20. Respect the Skills
21. Home Stretch
Order vinyl:
The official Android App for upcomingvinyl.com is now available for free on Google Play.
Vinyl & Turntable Accessories
More upcoming records