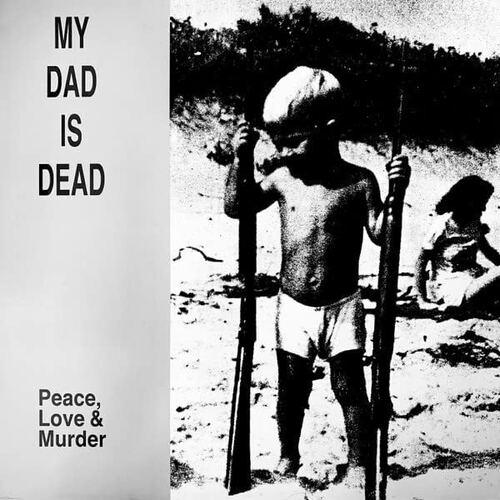 My Dad Is Dead
Peace, Love & Murder
Peace, Love & Murder was the second album by Cleveland's My Dad Is Dead, originally released in 1987 by Boston's Birth Records. Like the debut, ... And He's Not Gonna Take It Anymore, Mark Edwards wrote and performed all the music on his own. While not a significant departure from that album, Peace, Love & Murder does differ from it's predecessor and has some qualities that make it unique in the voluminous MDID discography. While combining live drums with drum machine is a hallmark of the MDID style, on this album Edwards introduced the Roland TR-505 into the mix, and in a bold move recorded the live drums first, which had the effect of making the rhythm tracks feel a bit more organic despite the presence, and occasionally the prominence, of the TR-505. Modal guitar tunings remain de rigeur here, but Edwards' abilities as a guitarist display a marked increase in proficiency and imagination. While the debut album sprawls a bit, PLM is a tight and focused ten song set, buoyed by a more impactful production job by Chris Burgess. Just as the debut album had a few lighter (or at least slightly less grim) songs, so does this album, but here they shine with a bit more pop sparkle. "Babe In The Woods" and "Hill O' Beans" would go on to be fan favorites for many years, as would the utterly harrowing unstoppable bulldozer that is "Like A Vise." All these years on, the album's closer "Fireball" has become oddly relevant and chilling. Sung from the POV of a mass shooter to a droning riff that evokes Middle Eastern modes, the narrator intones, "I'm gonna go out in a blaze of glory / today's the day I'm gonna make it to the headlines." The whole album has remarkable cohesion and pacing, as well as variety, and, not to mention, what a god-tier track "Breakdown" is. So grab a black overcoat and "Open Wide."
Tracklist:
1. Force Feed
2. Babe in the Woods
3. Open Wide
4. The Dark Side
5. Like a Vise
6. Breakdown
7. Hill O' Beans
8. Your Love
9. 20 Yards Deep
10. Fireball
Pre-order vinyl:
The official Android App for upcomingvinyl.com is now available for free on Google Play.
Vinyl & Turntable Accessories
More upcoming records