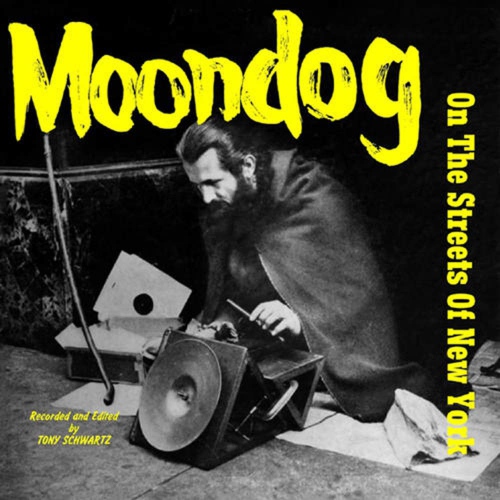 Moondog
On The Streets Of New York
Behold! A survey of Moondog's earliest recorded works - many of them unreleased until now - through a collaboration by Mississippi Records and Lucia Records. From 1954 - 1962 field recordist Tony Schwartz frequently checked in with Moondog, his favorite street musician. Tony Schwartz made recordings of Moondog's earliest compositions as they were coming into focus. Sometimes these recordings were made right on the street as Moondog busked, sometimes they were made in Schwartz's studio, and sometimes they were made on NYC rooftops. The resulting recordings, many of which had never been released, were deposited at the Library Of Congress as part ofthe Tony Schwartz Collection in 2006 when Schwartz passed away, and this record was culled straight from these original tapes. Side one kicks off with an unreleased version of Moondog's classic composition 'Why Spend The Dark Night With You?' followed by the first ever complete recording of his 'Nocturne Suite,' a beautiful piece of classical music performed with members of the Royal Philharmonic. The side ends with the complete 'On The Streets Of New York' 7' EP, which was released on Mars records in 1955and subsequently re-released by Honest Jon's Records in 2004 on theirexcellent Moondog anthology. Side B features sketches of Moondogcompositions never released, many with the man himself howling andchanting over his homemade percussion set. Moondog's music is as universal as it gets - part classical music, part Native American, part European folk, and part something completely unique. Moondog is one of the towering figures of 20th century music. This record comes with liner notes featuring never before released interviews with Moodog by Tony Schwartz and is housed in an old school 'tip on' cover. All tracks fully licensed from the Library of Congress. Heavy tip-on jacket with 4-page insert.
Tracklist:
1. Why Spend The Dark Nigh With You?
2. Moondog Nocturne Suite Part 1
3. Moondog Nocturne Suite Part 2
4. Moondog Nocturne Suite Part 3
5. Avenue Of The Americas (51st Street)
6. 2 West 46th Street
7. Lullaby (2 West 46th Street)
8. Fog On The Hudson
9. Utsu
10. On And Off The Beat
11. Chant
12. From One To Nine
13. Untitled Chant #1
14. Untitled Chant #2
15. Untitled Chant #3
16. Untitled percussion solo #1
17. Untitled percussion solo #2
18. Untitled percussion solo #3
19. Untitled Chant #4
20. Untitled percussion solo in traffic #1
21. Untitled percussion solo in traffic #2
Pre-order vinyl:
The official Android App for upcomingvinyl.com is now available for free on Google Play.
Vinyl & Turntable Accessories
17 April 2020
/ More records