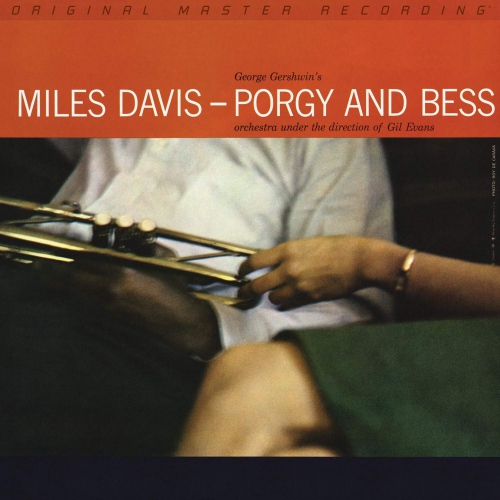 Miles Davis
Porgy & Bess
(2xLP)
Miles Davis and Gil Evans' Porgy and Bess Is a Landmark of Arrangement, Performance, and Emotion: 1959 Adaptation of George Gershwin Opera Advances Jazz Idioms and Modal PlayingMastered from the Original Master Tapes, Mobile Fidelity Reissues Play with Reference-Level Tonality, Depth, and Openness: Strictly Limited to 4,000 Numbered Copies on 180g 45RPM 2LPDavis' First Great Quintet Delivers Soul, Sweetness, Spirituality, and Intensity: Unsurpassed Jazz Dance Includes the Eternal 'Summertime' and Harmonic 'Prayer'If a more significant, influential, and lasting result of a creative musical partnership exists than that of Miles Davis and Gil Evans' Porgy and Bess, society hasn't seen it. It's impossible to overstate the importance of the pair's collaboration on the landmark 1959 update of George Gershwin's opera. Transcending genre, time, and place, the profound statement finds Evans and Davis implementing modal approaches in a mainstream context and advancing jazz idioms that would become the foundation of the form's still-classic era. Davis and Evans' adaptation of Porgy and Bess remains of a piece, an American touchstone that immediately separated itself from the multiple other versions released during the same period. And that's saying nothing of the soulful playing-legendary performances by Davis' first great quintet that can now be heard in pristine detail courtesy of these definitive editions.Mastered from the original tapes and strictly limited to 4,000 numbered copies on 180g 45RPM 2LP, Porgy and Bess attains previously unheard degrees of clarity, openness, immediacy, and depth on Mobile Fidelity's meticulous reissues. Here, the arrangements unfold amidst practically limitless soundstages and burst with multi-dimensional images. Davis' iconic solo passages take on borderline-surreal qualities of realism and shape. The magisterial scope of the Evansconducted orchestra emerges with room-filling bloom, color, and dynamics. At once sweet and spiritual, sure and steady, graceful and exuberant, happy and sad, Porgy and Bess is a phenomenal jazz dance that has never been equaled. You can't afford not to hear it in the finest-possible fidelity.
Tracklist:
1. The Buzzard Song
2. Bess, You Is My Woman Now
3. Gone
4. Gone, Gone, Gone
5. Summertime
6. Oh Bess, Where's My Bess?
7. Prayer (Oh Doctor Jesus)
8. Fisherman, Strawberry and Devil Crab
9. My Man's Gone Now
10. It Ain't Necessarily So
11. Here Come de Honey Man
12. I Wants to Stay Here (A.K.A. I Loves You, Porgy)
13. There's a Boat That's Leaving Soon for New York
Order vinyl:
The official Android App for upcomingvinyl.com is now available for free on Google Play.
Vinyl & Turntable Accessories
14 February 2020
/ More records