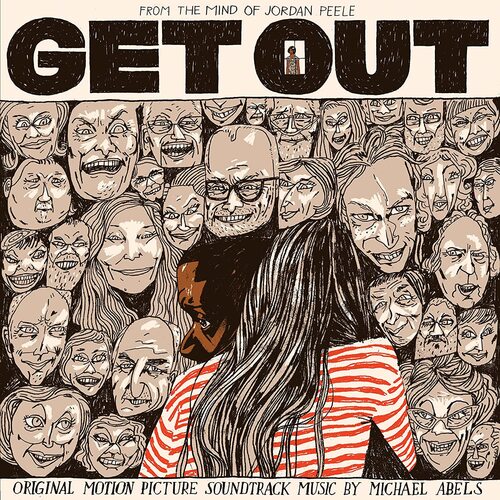 Michael Abels
Get Out Original Soundtrack
(2xLP)
Waxwork Records is thrilled to announce the release of GET OUT Original Motion Picture Soundtrack Music By Michael Abels. Written and directed by Jordan Peele, GET OUT is a critically acclaimed 2017 American horror film starring Daniel Kaluuya and Allison Williams. The film received numerous accolades and won the Academy Award for Best Original Screenplay. It was also nominated for Best Picture, Best Director, and Best Actor for Kalluya.GET OUT is the directorial debut of accomplished actor and long time horror-fanatic, Jordan Peele. The film's music was scored by composer Michael Abels, and it also features his debut as a film composer.Included in the new deluxe double LP release of GET OUT are exclusive liner notes in the form of an in depth essay by Peele that illustrates the director's first meeting with Michael Abels, their approach to the film's music, and how it all came together to conjure a new sound. "I had some ideas. I envisioned distinctly black voices harmonically creating an unnatural sound. The absence of hope. The void of the voiceless. A disembodied Negro spiritual. The Sunken Place." GET OUT Original Motion Picture Soundtrack features the complete soundtrack by composer Michael Abels, deluxe packaging, new artwork by Leslie Herman, a printed insert with exclusive liner notes by Jordan Peele, 180 gram black and white splatter vinyl, and old style tip-on gatefold jackets with satin coating.
Tracklist:
1. Prologue
2. Sikiliza Kwa Wahenga (Main Title)
3. Chris & Rose (Love Theme)
4. The Deer
5. The House
6. Meet the Help
7. The House Reprise
8. Ice Tea
9. Jeremy Enough
10. Georgina's Silhouette
11. Walter's Run
12. Georgina in the Window
13. Hypnosis
14. Investigations
15. Garden Party
16. Andre Reveal
17. Fist Shake
18. Blind Art Dealer
19. Georgina Weeps
20. Get Out
21. The Auction
22. Ukulele Walk
23. Photographs
24. Finding the Keys
25. The Sunken Place
26. Rod's Bing Search
27. Educational Video
28. Behold the Coagula
29. Rod Calls Rose
30. Mental Prep
31. Teacup TV
32. Surgery Prep
33. Chris Escapes
34. Race for the Teacup
35. Jeremy Attacks
36. Georgina Hit
37. Georgina Attacks
38. After the Accident
39. Get Him Grandpa
40. Walter Shoots
41. Rose Returns
42. Situation Handled
43. End Title (Montage)
Pre-order vinyl:
The official Android App for upcomingvinyl.com is now available for free on Google Play.
Vinyl & Turntable Accessories
More upcoming records