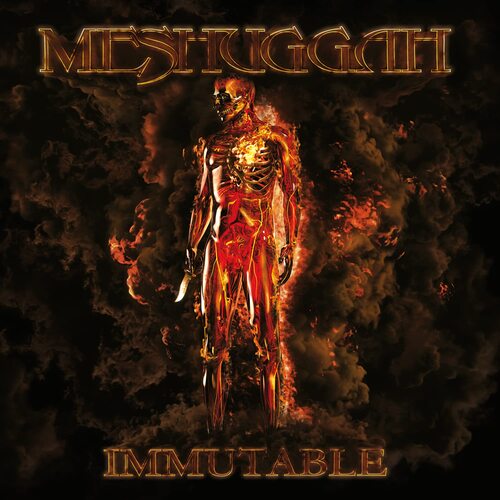 Meshuggah
Immutable (Gold)
(2xLP)
SHORT BLURB: Mavericks. Pioneers. Unique. Immutable. Destined to be one of 2022's most hailed and talked-about releases, "Immutable" once again showcases MESHUGGAH's collective brilliance, including some of the most jaw-dropping ensemble performances they have ever executed. Since forming in 1987, the Swedish sound architects known as Meshuggah developed into one of the most technically complex and virtuosic group of players the metal realm has ever encountered, their distinctly unique brand of progressive groove-infused death metal inadvertently launching an entirely new subgenre. Recorded in Sweden's "Sweetspot Studios", their ninth full-length album "Immutable" is the follow-up to their highly acclaimed and Grammy nominated album, "The Violent Sleep Of Reason". The new album and 2022 tour will see the return of Fredrik Thordendal. Mastered by multiple Grammy award winner Vlado Meller (Metallica, Rage Against The Machine, Red Hot Chili Peppers, System Of A Down), Mini-Bio ENGLISH MESHUGGAH stand alone. The most inventive and creative metal band of the last 30 years and one of the most widely revered, MESHUGGAH have been standard bearers for forward-thinking creativity in heavy music throughout their illustrious careers. Over the course of more than 30 years and eight studio albums, Sweden's widely worshipped progressive mavens have consistently redefined what it means to be heavy, while exhibiting a ferocious intelligence that belies the crushing weight of their riffs. Six years on from the band's most recent full-length, "The Violent Sleep Of Reason", 2022 brings a fresh and fearsome revelation from MESHUGGAH. Shattering even the highest of expectations, the band's ninth album is simply their wildest and most esoteric sonic adventure yet. Legendary. Unique. Immutable. MESHUGGAH are still operating on a higher level of metallic consciousness than just about everybody else. This band blow minds for a living, and "Immutable" is their most explosive work of monstrous art yet. FR Le nom de MESHUGGAH se suffit à lui-même. Respecté pour être l'un des groupes de "metal" le plus inventif et créatif de ces 30 dernières années, depuis le début de son illustre carrière le quintette suédois est incontestablement le porte-drapeau des musiques extrêmes et avant-gardistes. A travers leurs huit albums studio, ces prophètes scandinaves ont constamment redéfini la signification du terme "heavy", en faisant preuve d'une intelligence féroce et d'une approche "progressive" qui masquent le poids écrasant de leurs riffs. Six ans après "The Violent Sleep Of Reason", leur dernier album en date, 2022 apporte enfin une révélation aussi fraîche que redoutable. Bousculant toutes les attentes, ce neuvième opus est tout simplement l'aventure sonore la plus sauvage et la plus ésotérique que MESHUGGAH nous est offerte à ce jour. Légendaire... Unique... avec une constante effrayante, la magie de MESHUGGAH permet d'élever la conscience métallique à un niveau bien supérieur à ce que l'on peut entendre d'ordinaire. Ce groupe possède vraiment un don pour éveiller l'intérêt et attiser les esprits. Sorte d'œuvre d'art monstrueuse "Immutable" est sans aucun doute l'album le plus explosif de leur histoire... ES MESHUGGAH son únicos. La banda de metal más inventiva y creativa de los últimos 30 años y una de las más veneradas, MESHUGGAH han sido los abanderados de la creatividad vanguardista en la música pesada a lo largo de su ilustre carrera. A lo largo de más de 30 años y ocho álbumes de estudio, los suecos, ampliamente respetados, han redefinido constantemente lo que significa la música dura, a la vez que han mostrado una feroz inteligencia exhibida junto al aplastante peso de sus riffs.
Tracklist:
1. Broken Cog
2. The Abysmal Eye
3. Light The Shortening Fuse
4. Phantoms
5. Ligature Marks
6. God He Sees In Mirrors
7. They Move Below
8. Kaleidoscope
9. Black Cathedral
10. I Am That Thirst
11. The Faultless
12. Armies Of The Preposterous
13. Past Tense
Order vinyl:
The official Android App for upcomingvinyl.com is now available for free on Google Play.
Vinyl & Turntable Accessories
More upcoming records