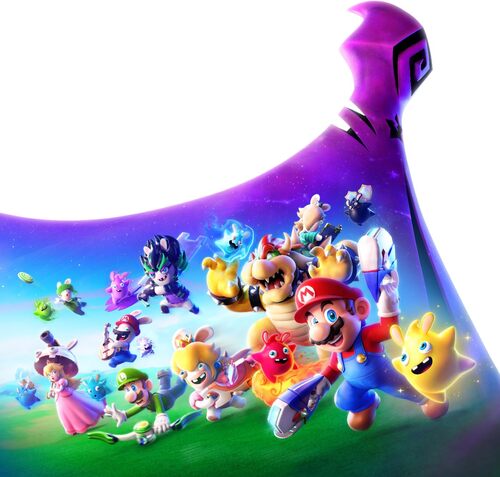 Mario + Rabbids Sparks Of Hope - O.s.t.
Mario + Rabbids Sparks Of Hope Original Soundtrack
Pre-order vinyl:

Laced has teamed up with Ubisoft and Nintendo to bring the award-winning glorious galactical grooves of the latest Mario + Rabbids game to wax. Talk about a composer dream team - the credits of Yoko Shimomura, Grant Kirkhope and Gareth Coker speak for themselves. 35-year veteran Shimomura-san has touched many of the most beloved series including Street Fighter, Mario RPG, Kingdom Hearts, Final Fantasy and more. Kirkhope has created some of the most recognisable and beloved soundtracks in gaming, including GoldenEye 007, Banjo-Kazooie and Viva Piñata. The relative newcomer of the trio, Coker has amassed an enviable credits list, helming the Ori and Ark series as well as working on Minecraft and Halo Infinite. The three talents were tactically deployed across the score by audio director Romain Brillaud, bringing different orchestral and electronic sensibilities to the game. Kirkhope retained his 'friendly-epic' sound from Mario + Rabbids Kingdom Battle, and was assigned the narrative and character elements of the sequel's soundtrack. Nothing can rouse the troops quite like Shimomura-san's stirring piano and orchestral style, and she typically wrote Sparks of Hope's battle cues. Coker helped bring new colours and emotions to specific settings in the game as well as some boss fights, touching on styles including French impressionism to enrich the score. The whole OST is remarkably cohesive, aided by joint orchestral recording sessions that took place in Tokyo, Japan. Legendary Nintendo composer Koji Kondo and Super Mario Galaxy co-composer Mahito Yokota supervised the soundtrack. MARIO + RABBIDS SPARKS OF HOPE © 2022 Ubisoft Entertainment. All Rights Reserved. Rabbids, Sparks of Hope, Ubisoft and the Ubisoft logo are registered or unregistered trademarks of Ubisoft Entertainment in the U.S. and/or other countries. Nintendo properties are licensed to Ubisoft Entertainment by Nintendo. SUPER MARIO characters © Nintendo. Trademarks are property of their respective owners. Nintendo Switch is a trademark of Nintendo.