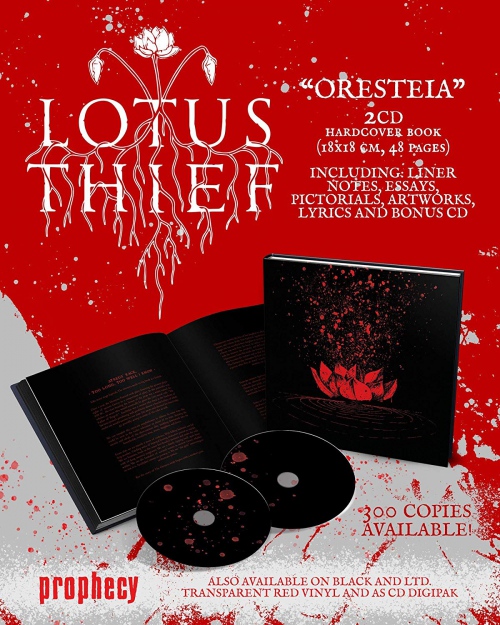 Lotus Thief
Oresteia Hardcover Book
(2xLP)
San Francisco avant-gardists Lotus Thief create visionary music that incorporates elements of doom and black metal as well as post rock. Transcendent in sound and substance, the band has released two acclaimed albums ("Rervm" in 2014, and their Prophecy debut "Gramarye" in 2016), that draw insight from ancient texts for present-day life. History is preserved and ignited, a sonic re-imagining for a world where the human race learns from it's past. With their third record "Oresteia," Lotus Thief pushes their sound further than ever, focussing on both male and female singing, feral screams, melodic versus ferocious guitarwork and soaring violins. The result balances the atmospheric with the devastating. In retelling the namesake epic trilogy from ancient Greece by tragedian Aeschylus, mastermind Bezaelith once again addresses distinctly modern topics, as the blood-drenched story of the mythical House of Atreus prompts several questions, ranging from the ethics of killing to gender roles. "Oresteia" is an intentional narrative and boasts Lotus Thief's most sophisticated production so far. A five-headed hydra of distinct personalities and stylistic backgrounds contributes to the record's depth and diversity like the masked actors in an ancient stage play. It is no wonder that with it's strong dynamics and ambient intersections, the tracks mirror an experience not unlike attending a performance in an amphitheater. Add to this maybe the heaviest moments ever in Lotus Thief's oeuvre, their new full-length embodies the ingenuity and intensity of contemporary extreme music. "Oresteia" is available as a Digipak CD, 2CD artbook with two bonus tracks and on vinyl (black, ltd. Transparent red).
Tracklist:
1. Agamemnon
2. Banishment
3. Libation Bearers
4. Woe
5. The Furies
6. Reverence
7. Sister in Silence
8. The Kindly Ones
9. Sister in Silence (Ambient Cut)
10. Libation Bearers (Ambient Cut)
11. Reverence (Ambient Cut)
Order vinyl:
The official Android App for upcomingvinyl.com is now available for free on Google Play.
Vinyl & Turntable Accessories
10 January 2020
/ More records