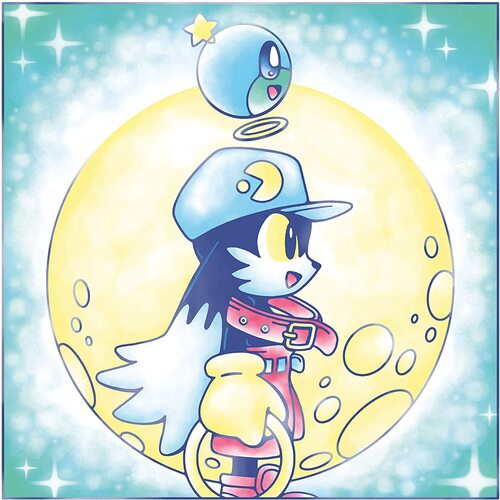 Klonoa: Door To Phantomile - O.s.t.
Klonoa: Door To Phantomile Original Sountrack (Swirl)
(2xLP)
Fondly remembered by fans nearly 25 years after it's original 1997 Japanese release, Klonoa: Door to Phantomile remains a landmark title in the PlayStation's vast library. The series remains notable and beloved for it's 2.5D platforming style, it's whimsical story and themes, and, of course, the phenomenal music. Klonoa: Door to Phantomile was available as a 2XLP set with new artwork by Drew Wise, and now on cassette! Also includes a printed insert featuring archival artwork from the BANDAI NAMCO archives alongside new liner notes by Retronauts' Jeremy Parish.
Tracklist:
1. Let's Go for a While
2. Title
3. And I Begin to Wonder
4. Inquisitive Waltz
5. The Windmill Song
6. Mine of Lights
7. Ghadious Appears
8. The Rongo Lango
9. Granpa's Chair
10. Sad Forrest Drum I
11. Jugpot Falls I
12. Weeping Karal
13. Mad Seadoph Blues
14. Forlock Twist
15. Count Three
16. Beats from Above
17. Granny's World
18. The Ruin's Air I
19. Blue Cave Echo
20. Baladium's Drive
21. For the Time We've Spent
22. Red Heat Coronia
23. Nevertheless
24. Out of Time, Cress
25. Untamed Heart I
26. Difficult to Say
27. The Closing Encounter I
28. Quiet Choir
29. Nightmare's on
30. The Instrumentality
31. Rapid Eyes Inside
32. The Ring
33. I'm on Your Side
34. Farewell
35. Resurrection
36. Staff Roll
37. The Tower of Balue
38. Good Night
Pre-order vinyl:
The official Android App for upcomingvinyl.com is now available for free on Google Play.
Vinyl & Turntable Accessories
More upcoming records