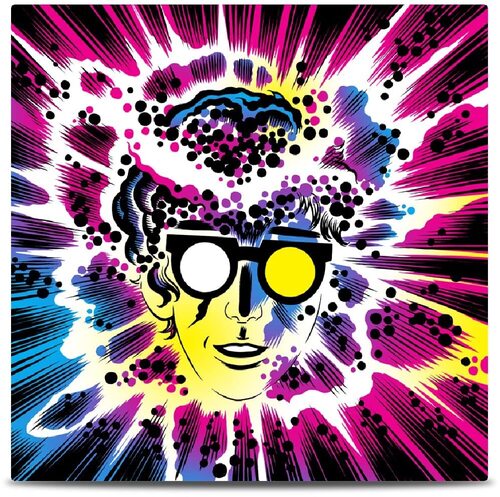 Johnny / Abrahams Galvatron
The Artful Escape Originall Soundtrack
(2xLP)
Music is the heart and soul of The Artful Escape's trippy, otherworldly adventure. Developer Beethoven & Dinosaur's debut title is a deeply personal, reflective work, filtered through the prism of rock 'n' roll. The game's hero, Francis Vendetti, sets off to discover himself through the power of music, embarking on an intergalactic odyssey that transcends space and time. How could we at iam8bit not work with our pals at publisher Annapurna Interactive and Beethoven & Dinosaur to create a vinyl testament worthy of The Artful Escape's groovy glamor?  It's a match made in the ziggiest of stardusts. What we've put together here is, if you don't mind us saying, a doozy. It's two discs packed with the best of the game's psychedelic soundtrack, from Josh Abraham and Johnny Galvatron, featuring timeless classics and mind-blowing space jams, such as "The Banks of the River are Lined with Gold," "Ode To Lightman" and "The City of Glimmer." And who else could provide appropriately face-melting album artwork, but the talented and prolific cartoonist/illustrator Jim Rugg? It's the sounds of The Artful Escape as they were meant to be heard - wait... no, experienced.
Tracklist:
1. The Banks of the River Are Lined with Gold
2. Father
3. All That Glitters Is Not Gold
4. If It Don_T Work Out
5. Folk Sci-Fi Bedroom
6. A Thin Film of Atmosphere
7. Ode to Lightman
8. Lightmans Part a
9. Lightmans Part B
10. The Cosmic Extraordinary Theme
11. Iceberg Finale
12. Alien Disco
13. Lightman Presents
14. Heliotromms Theme
15. Forest Theme
16. Shopping District
17. The Ruby Cola
18. Monster Flight
19. A Chance Not Taken
20. The City of Glimmer
21. A Theme for Mountain Ridges
22. Glimmerdimm Choir
23. The Lumiere Violente
24. Glimmerdimm Synth
25. Hyperion Wailzone Opening Scene
26. Hyperion Welcoming
27. F Maj Hyperion Wailzone Theme
28. Lily Pad Drunk Funk
29. Village Turntables
30. Hovercar Theme
31. The Darkest Hour Theme
Pre-order vinyl:
The official Android App for upcomingvinyl.com is now available for free on Google Play.
Vinyl & Turntable Accessories
More upcoming records