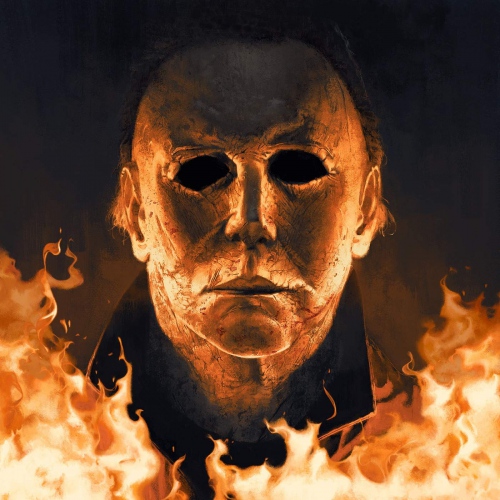 John Carpenter
Halloween: Expanded Edition
2018's Halloween, directed by David Gordon Green, starring Jamie Lee Curtis, and with music by series creator John Carpenter (along with his son and godson, Cody Carpenter and Daniel Davies) was a critical and box-o ce smash. It grossed $159 million against a $10 million budget, becoming the most pro table Halloween movie since the 1978 original. The soundtrack album was a hit, too, debuting at #12 on the Billboard Albums chart and #2 on the vinyl chart, on it's way to becoming one of the most successful movie soundtracks of the last decade. One year later, Sacred Bones Records is pleased to present an expanded edition of the soundtrack, including more than 28 additional minutes of music from the lm and presenting a more complete, immersive listening experience. The additional material included on the expanded edition adds at total of 24 cues to the album, spread across two more sides of vinyl on the deluxe double LP version. The LP also has all-new art and lavish packaging, including an optical-illu- sion lenticular sleeve that makes the ames around Michael Myers's mask dance when you slide it o the record jacket. For diehard fans of the Halloween series, collectors of John Carpenter's music, or anyone who wants to hear even more of the incredible score to this movie, this expanded edition is a must-buy.
Tracklist:
1. Intro
2. Aaron Meets Michael
3. Halloween Theme
4. Laurie's Theme
5. Aaron and Dana Enter Laurie's Compound
6. Laurie's Past
7. Prison Montage
8. Laurie Breaks Down
9. Karen's Flashback
10. Lumpy Explores Crash
11. Michael Kills
12. Hawkins Arrives at Crash Site
13. Dana's in the Shower
14. The Story of Judith's Death
15. The Gas Station
16. Michael Kills Again
17. Gas Station Aftermath
18. The Shape Returns
19. The Boogeyman
20. The Shape Kills
21. Hawkins Called to Babysitter's House
22. Laurie Sees the Shape
23. Babysitter Aftermath
24. Sartain Meets Laurie
25. Looking for Allyson
26. Wrought Iron Fence
27. The Shape Hunts Allyson
28. Talking to Cops
29. Allyson Discovered
30. Gun Closet
31. Halloween Theme (I've Got Eyes)
32. Sartain's Gone Mad
33. Say Something
34. Through the Woods
35. Ray's Goodbye
36. The Shape Attacks Laurie
37. The Shape Is Monumental
38. Searching for the Shape
39. Mannequin Panic
40. Death Drum
41. The Shape and Laurie Fight
42. The Grind
43. Trap the Shape
44. The Shape Burns
45. Halloween Triumphant
Order vinyl:
The official Android App for upcomingvinyl.com is now available for free on Google Play.
Vinyl & Turntable Accessories
18 October 2019
/ More records