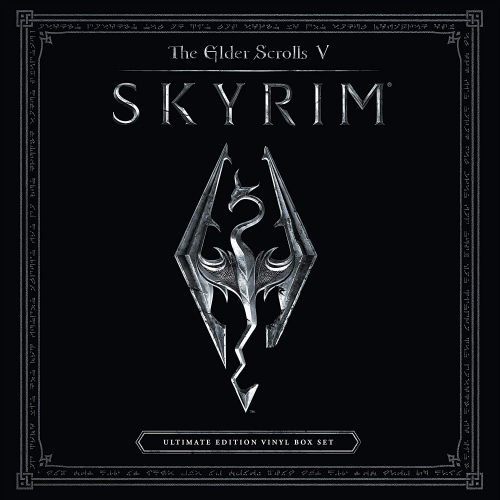 Jeremy Soule
The Elder Scrolls V: Skyrim - Ultimate Edition Vinyl Box Set
(4xLP)
THE ELDER SCROLLS V: SKYRIM "ULTIMATE EDITION" VINYL BOX SET is a formidable volume, featuring four LPs containing the full 52 track original score by BAFTA award winning composer Jeremy Soule (Morrowind, Oblivion, Guild Wars, Neverwinter Nights, Star Wars: Knights of the Old Republic). The deluxe package includes four vinyl LPs and a stunning, full color quad-fold jacket featuring beautiful artwork and iconic imagery from the game, all housed in a full color heavy board-stock slipcase. Additionally, the b-side of the final disc (Side H) features a laser etching of the Skyrim dragon logo. The Skyrim development team tapped muti-BAFTA award-winning composer Jeremy Soule, who previously worked on Morrowind and Oblivion, to compose the music for Skyrim. Soule is best known for his work in the Elder Scrolls and Guild Wars games and for providing the soundtrack for many successful CRPGs in the early 2000s. He pioneered the use of orchestral symphonies in strategy games with his Total Annihilation score. He also composed for many games in the Harry Potter series, which have earned him multiple BAFTA nominations and a win.
Tracklist:
1. Dragonborn
2. Awake
3. From Past to Present
4. Unbroken Road
5. Ancient Stones
6. The City Gates
7. Silent Footsteps
8. Dragonsreach
9. Tooth and Claw
10. Under and Ancient Sun
11. Death or Sovngarde
12. Masser
13. Distant Horizons
14. Dawn
15. The Jerall Mountains
16. Steel on Steel
17. Secunda
18. Imperial Throne
19. Frostfall
20. Night Without Stars
21. Into Darkness
22. Kyne's Peace
23. Unbound
24. Far Horizons
25. A Winter's Tale
26. The Bannered Mare
27. The Streets of Whiterun
28. One They Fear
29. The White River
30. Silence Unbroken
31. Standing Stones
32. Beneath the Ice
33. Tundra
34. Journey's End
35. Before the Storm
36. A Chance Meeting
37. Out of the Cold
38. Around the Fire
39. Shadows and Echoes
40. Caught Off Guard
41. Aurora
42. Blood and Stee
43. Towers and Shadows
44. Seven Thousand Steps
45. Solitude
46. Watch the Skies
47. The Gathering Storm
48. Sky Above, Voice Within
49. Death in the Darkness
50. Shattered Shields
51. Sovngarde
52. Wind Guide You
Order vinyl:
The official Android App for upcomingvinyl.com is now available for free on Google Play.
Vinyl & Turntable Accessories
17 July 2020
/ More records