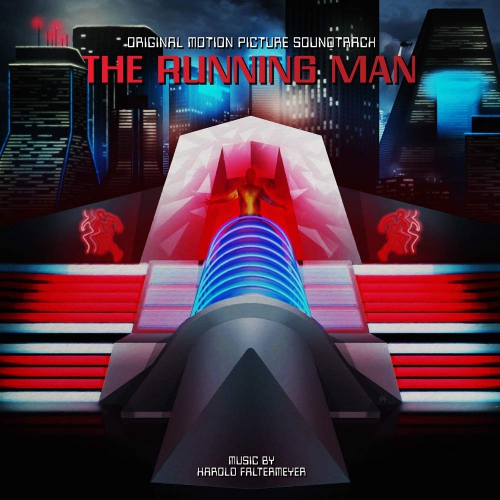 Harold Faltermeyer
The Running Man (Original Motion Picture Soundtrack)
(2xLP)
A tour de force of synthesizer based score from the composer of Beverly Hills Cop and Top Gun. The original (1987) 17 track album has been expanded to 35 tracks, which includes additional music and unreleased/alternate cues all taken from the original Paramount Pictures sources. This 2LP set comes in gatefold jacket with printed inner sleeves. The entire package features original art specially created for this release along with extensive liner notes and original film stills.
Tracklist:
1.Logo-Bakersfield (Full Length Version) (3:00)
2.Fight/Escape (3:51)
3.Game Show Promo (0:36)
4.Laughlin's Collar/Richards Collar (2:00)
5.Network (0:36)
6.Richard's Apt. Sneak (1:13)
7.Captain Freedom's Workout (1:56)
8.Airport Chase (1:26)
9.Medical Checkup (2:23)
10.Richards Intro (0:49)
11.Hawaii/Amber Sneaks/Richards Betrayal/Blast Off (2:00)
12.Richards Lands/Come On Down (Alternate Version) (1:25)
13.Subzero Intro (1:58)
14.Subzero (3:55)
15.Count's Aria Marriage of Figaro (Instrumental Version Of Dynamo's Theme) (0:40)
16.Uplink/Amber Launch/Richards Grabs Amber (2:55)
17.Buzzsaw Dynamo (1:51)
18.Buzzsaw Attack (1:54)
19.Weiss Finds Uplink (Alternate Version) (1:17)
20.Buzzsaw-Richards Fight (1:55)
21.Valkyrie Intro/Valkyrie (2:37) (Composed by Harold Faltermeyer/Wagner)
22.Spare Dynamo/Laughlin Dies (2:22)
23.Fireball Intro (1:23)
24.Fireball Chase (2:04)
25.Fireball-Amber (2:09)
26.Death March (0:48) (Composed by Jackie Jackson And Glen Barbie)
27.Fake Death (1:37)
28.Mick/Richards Amber (1:40)
29.Broadcast Attack (5:06)
30.Killon Is Launched (unreleased version) (0:55)
31.Revolution/End Credits (unreleased version) (1:59)
32.Intro-Bakersfield (2:02)
33.Captain Freedom's Workout (Full Length Version) (2:27)
34.Massacre Highlights (1:09)
35.Buzzsaw Attack (Minus Lead Guitar) (1:53)
Order vinyl:
The official Android App for upcomingvinyl.com is now available for free on Google Play.
Vinyl & Turntable Accessories
14 August 2020
/ More records