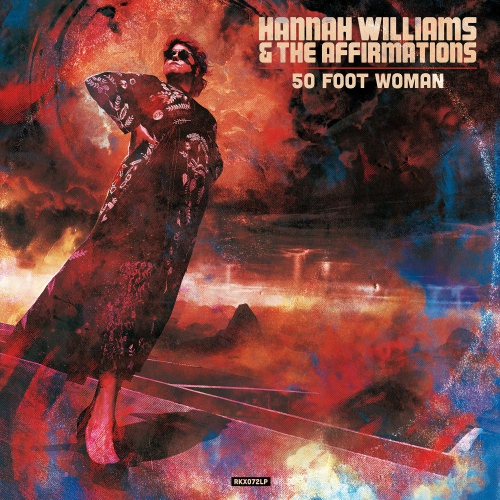 Hannah Williams & The Tastemakers
50 Foot Woman
Hannah Williams, the British soul hurricane who sensationally became part of Jay-Z's chart-topping 4:44 album, is primed and ready for her own national and international breakthrough. Williams turned heads worldwide when the hip-hop superstar sampled her heart-stopping vocals on 'Late Nights & Heartbreak' for the title track, '4.44' on his 2017 album. Now Hannah and her exemplary, Bristol-based band the Affirmations deliver a definitive career statement with the drop-dead soulful new album 50 Foot Woman which will be released October 18th on the Milan based imprint Record Kicks. The album captures all of the visceral power of the band's increasingly legendary live performances. Shades of classic Soul and Psychedelic Funk blend uniquely with modern-day flavors on a record destined to set the soul agenda for 2019 and far beyond. "I've never been as proud of anything in my entire career" says Hannah. Born in High Wycombe in Buckinghamshire, Williams' father was a musically gifted minister, and her mother let her join the church choir at the age of six. Hannah could read music before she could properly read words, and when she discovered soul by listening with her mum to Motown and Bill Withers, there was no turning back. After a 2012 debut with her previous band the Tastemakers, it was 2016's Late Nights & Heartbreak that announced the arrival of Hannah Williams and the Affirmations. But little did she know that Jay-Z was listening. One day, at her then-day job running the music department at the University of Winchester, he sent her a text. Once she'd established that it wasn't a wind-up, and summoned the courage to call him back, she learned that Jay-Z's producer, No I.D., had played him Hannah's track to inspire his response to Beyoncé's Lemonade, on which she sang of his infidelities. Williams was as in the dark about how 'Late Nights & Heartbreak' would be used until 4:44 dropped. But the substantial sample of her voice opened doors she never dreamed of. "It was an incredible catalyst," she says, "as a change in our collective career, and getting a global audience. Suddenly, there were millions of predominantly American hip-hop fans listening to my voice, going 'Is this from the '60s? Is she dead?'" What followed was a year of the band's widest-ever touring including an invitation to perform at Central Park Summer Stage NY, Toronto Jazz Festival and Brooklyn Bowl NY and expanded audiences in continental Europe where she and the Affirmations had already made a mark. Then came the burning determination to make the record of their lives. The captivating 50 Foot Woman is that album, produced by Shawn Lee, a respected presence on the funk/soul scene whose credits include Amy Winehouse, Lana Del Rey and Alicia Keys. Lee has released five solo albums as Shawn Lee's Ping Pong Orchestra on San Francisco label Ubiquity Records and is also one half of the cool melodic pop duo Young Gun Silver Fox. Now the world will hear what the cognoscenti have known for a while: that Hannah Williams is the real deal, and sings from her very soul. "I feel like my performance comes from my solar plexus," she says. "The emotional side of it is so intrinsic; I can't take it away from what I do."
Tracklist:
1.50 Foot Woman
2.I Can't Let This Slip Away
3.The Only Way out Is Through
4.Tablecloth [Explicit]
5.Sinner
6.What Can We Do?
7.How Long?
8.I Feel It
9.Please Be Good to Me
10.Hourglass
11.Worrying Mind
Order vinyl:
The official Android App for upcomingvinyl.com is now available for free on Google Play.
Vinyl & Turntable Accessories
08 November 2019
/ More records