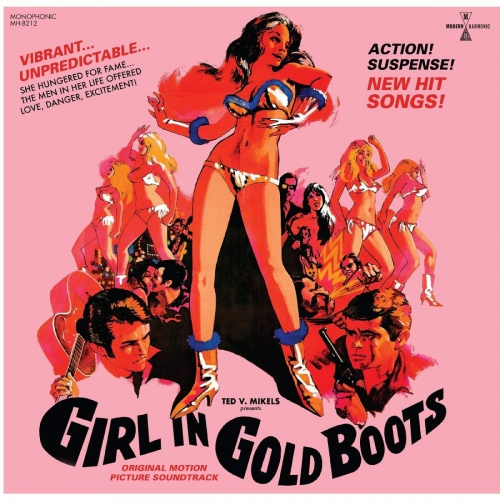 Girl In Gold Boots / Original Motion Picture
Girl In Gold Boots Original Motion Picture Soundtrack
(2xLP)
A Mad Menagerie of Grindhouse Go-Go Grooves! Girl In Gold Boots is Ted V. Mikels' (The Corpse Grinders) homage to the time tested 'small town girl moves to the big city to become a go-go dancer' story. And if a movie is ostensibly about go-go dancing, then we're gonna need some music to go-go to. And that's what this album you're now holding is all about. From the odd psych rocker 'Do You Want To Laugh Or Cry,' to a frenetic barrage of country soul. It's got some solid harmonica groovers, an odd xmas song and of course the banger of a title track! Pressed on colored vinyl, and includes a DVD of the entire film with lots of extras!
Tracklist:
1.Theatrical Trailer
2.Girl In Gold Boots - Larry Cartell
3.A Little Companionship (dialog)
4.(Everything I Touch Turned To) Gold - Joe Valino
5.Wanna Be A Professional (dialog)
6.Wheels Of Love - Larry Cartell
7.Snacktime (dialog)
8.My Careless Heart - Larry Cartell
9.Take His Brains Out (dialog)
10.Knockin' Boots - Nicholas Carras
11.Sin - Larry Cartell
12.I'm Here To Be A Dancer (dialog)
13.Julie - Danny Welton
14.Bad Mannered Kids With Guns (dialog)
15.Cowboy Santa - Larry Cartell
16.Jimmy's Girl - Larry Cartell
17.Girl In Gold Boots Theme - Nicholas Carras
18.That's The Fool In Me - Jerry Wallace
19.Show Off Whatcha Got, Baby (dialog)
20.I Just Want To Rest - Chris Howard
21.Let's Hear It With Music (dialog)
22.Strobelights - Danny Welton
23.Who's That? (dialog)
24.Do You Want To Laugh Or Cry? - Chris Howard
25.You'll Find Your Hole (dialog)
26.Lonesome Man - Jody Daniels
27.Tonight I Shall Get Good And Drunk (dialog)
28.You Gotta Come Down - Jody Daniels
Order vinyl:
The official Android App for upcomingvinyl.com is now available for free on Google Play.
Vinyl & Turntable Accessories
31 July 2020
/ More records