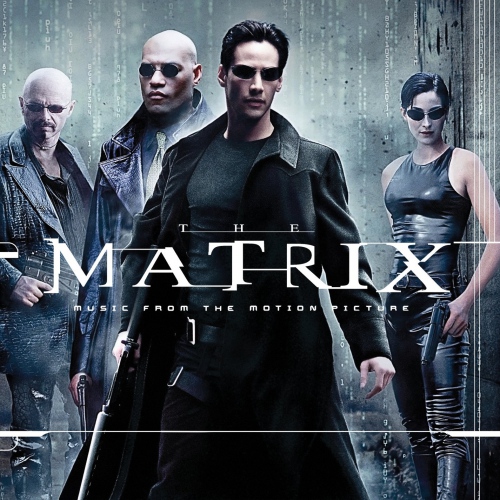 Don Davis
The Matrix: Music From The Soundtrack Limited Red & Black "squiddy" Edition
(2xLP)
Every decade or so a science fiction film comes along that captures the Zeitgeist and simultaneously casts a searchlight into the murk of what's to come. Such a film was The Matrix. Released in 1999 to a public already grappling with huge technological change and subject to Y2K hysteria whipped up by the media, The Matrix wove such au courant tropes as Japanese animé, Hong Kong martial arts films, cyperpunk sci-fi, and hacker hero worship into a tale of druggy paranoia whose vision of a grim future marked with universal surveillance and pathological interconnectedness actually looks less paranoid by the day. And its soundtrack was similarly forward-looking. Instead of offering the blues-based, heavy metal rock that might have populated the score had the movie been made a decade before, The Matrix tapped into the new, breakbeat electronic sounds making inroads into popular music. The result was a propulsive audio ride perfectly mated to the film's cinematographic "bullet time" innovations, a doom-laden, neck-snapping blend of stoner metal, hip hop and electronica. Now, Real Gone Music is proud to present the original soundtrack to The Matrix in a limited red and black "squiddy" vinyl edition. The 2-LP set comes in a gatefold package featuring stills from the original film production and is limited to 420 copies…like Morpheus says, this is your last chance!
Tracklist:
1. Rock Is Dead - By Marilyn Manson
2. Spybreak (Short One) - By Propellerheads
3. Bad Blood (Alternate Mix) - By Ministry
4. Clubbed to Death (Kurayamino Variation) - By Rob Dougan
5. Prime Audio Soup - By Meat Beat Manifesto
6. Leave You Far Behind (Lunatics Roller Coaster Mix) - By Lunatic Calm
7. Mindfields - By Prodigy
8. Dragula (Hot Rod Herman Remix) - By Rob Zombie
9. My Own Summer (Shove It) - By Deftones
10. Ultrasonic Sound - By Hive
11. Look To Your Orb For The Warning - By Monster Magnet
12. Du Hast - By Rammstein
13. Wake Up - By Rage Against The Machine
Order vinyl:
The official Android App for upcomingvinyl.com is now available for free on Google Play.
Vinyl & Turntable Accessories
14 June 2019
/ More records