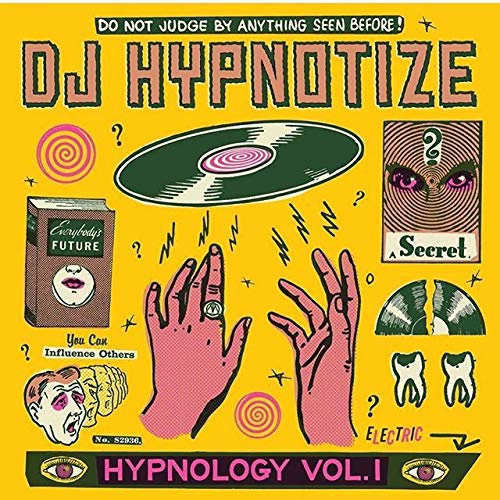 Dj Hypnotize
Hypnology Vol. 1
Highly anticipated debut album of DJ Hypnotize aka The HZA 'Hypnology' Vol. 1 12'. All-New, Ultra Rare Skratch Record on White Marble vinyl feat. 7 new hard beats and 22 skip-less samples to have you tearing up the tables all night long! For DJ's only.
Tracklist:
1. Electrogravitics
2. The Stargate
3. Spiral Dynamics
4. Psychotronics
5. Modo Vivendi Aka Torsion Fields
6. Nootropics
7. Bonus Locked Groove Electro
8. Tonight Your Gonna See Some Skratchin'
9. I Been Slicing MF's Fresh
10. I Cut So Much, Ahhh Yea, Go
11. Hit You with My Direct Blow
12. Dynamic Flow Like This, Something Like This Ahhh
13. BRKN Shit Down to Molecules, Yea, Wah, Cut
14. Catch Wreck, Say What Huh Yo
15. Funky Kut Like a Guillotine BRKN SHT
16. Effortlessly Slice or Shred
17. We'd Better Get Hyp, Who the Fuck Is This
18. Ill Show You What Shredded Is
19. Idgaf Say What, Yo It's Shredder
20. Wdgaf Bust This Bust That
21. The Legendary Skratch, Uhhh
22. Ahhh Comin Fo Yo Ass Go Kut
23. Doing Things That You Never Heard, Hip Hop
24. If You Choose to F*#$@ Around You Get Ahhhh
25. Break It Down, Im Back with the Flow
26. What Style Is That Now One Can Save You
27. Oh Shit, Ahh, Broke It Down
28. The Fresh Maker, It's Fresh
29. Total Organization, Ahhh
Order vinyl:
The official Android App for upcomingvinyl.com is now available for free on Google Play.
Vinyl & Turntable Accessories
25 October 2019
/ More records