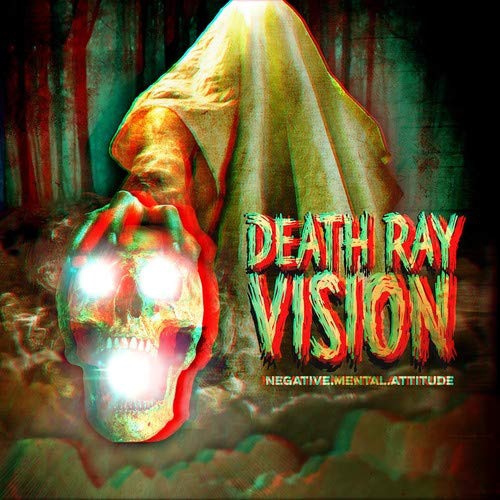 Death Ray Vision
Negative Mental Attitude
Nearly five years after the release of We Ain't Leavin' Till You're Bleedin', Massachusetts old-school hardcore fashioned, Death Ray Vision have been finalizing their sophomore effort Negative Mental Attitude. Recording will begin in September at Mad Oak Studio, where the band previously recorded their first five-song EP "Get Lost or Get Dead", once again with producer Benny Grotto at the helm. "It's a playful jab at the hardcore scene, in a way", bassist Mike D'Antonio states about the album title. "There's a lot of people who preach a 'positive mental attitude' and they practice anything but that". The title also succinctly represents the band's current direction which deviates from their previous "go old-school or go home" approach. "We don't really have a lot of good moods on this one", guitarist Pete Cortese continues, "it's a little more morose, melodic, and to say that it will be 'our finest work to date' would be a little too positive for the angle we're going for". In addition to songwriting, the band also had line-up changes along the way with vocalist Brian Fair and guitarist Zack Wells making their exit due to family and relocation across the country. "It makes more sense for the guys to have someone local and available at all times", states Fair. "Now that I live in St. Louis doing the Married with Children thing, it became increasingly tougher to make things work out logistically". With the departure of Fair comes new vocalist Jeff Gard, formerly of Boston-based Chuggernaut. Gard offers a tremendous vocal range which provoked a shift in style. The transition happened quickly as D'Antonio explains, "I was forwarded a song that Jeff sang on, and I immediately wanted him to audition. After two practices, it was an easy choice to make." Amidst broadening their musical horizons, Death Ray Vision commits to keeping an old-school baseline at it's core. Drummer, Colin Conway adds, "there will always be speed and aggression in our formula, but instead of presenting a 'tough guy' demeanor, we break through that shell and expose the 'tragic hero' within." PRESS: "The quintet nail the sound they're going for, and fans of S.O.D., MUNICIPAL WASTE or NUCLEAR ASSAULT may display demented grins as they make this the soundtrack to windmilling their hair all the way to the chiropractor's office." - Alternative Press
Tracklist:
1. We're Done with You
2. Murica
3. This Disaster
4. Just Let It Die
5. The Angels Screamed
6. The Whiskey Knows
7. Hollow Lives Dig Their Own Graves
8. Enlightened
9. Captain Blackout
10. Negative Mental Attitude
11. This Journey Is Your Tomb
12. Wage War on Something
13. Dead But Inspired
Order vinyl:
The official Android App for upcomingvinyl.com is now available for free on Google Play.
Vinyl & Turntable Accessories
19 April 2019
/ More records