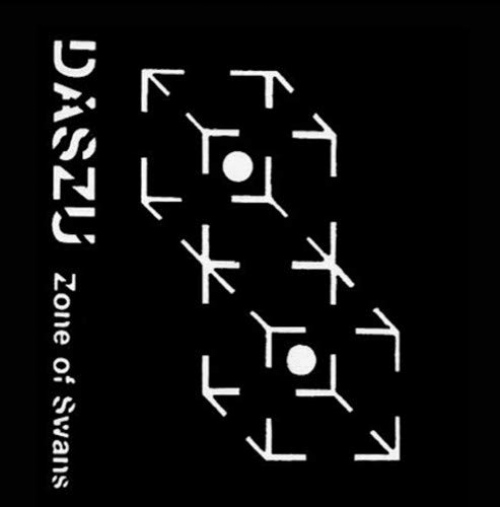 Daszu
Zone Of Swans/Lucid Actual + 1/2 Dativa
(2xLP)
Double vinyl LP pressing. Includes eight-page insert booklet containing the Daszu manifesto, poetics for most tracks, a measure of band history, and Part 1 and 2 of Mark Rudolph's poetry from the Daszu era. An impediment to achieving a place in the post-punk pantheon - Daszu was based in Milwaukee, not in the UK. Except for cassette distributions in Helsinki and Dublin, and a few scattered performances, they lived, practiced and performed near home. In 1979, Mark Rudolph talked in his kitchen to David Wolf about an idea he had for a new music: how music could be 'popular' without rock guitars and a big wall sound such as large amps and organs. "I said we could do a minimal three-piece music based on new melodic lines and poetry and synthesis. I thought that we could remake reality. It was possibly ambitious, but I didn't think so. We decided to do it." They did it. Not with a big polyphonic keyboard, but with a mini-moog sound generator. The 1/2 Dativa material included on our Lion survey of Daszu's musical innovations was the work of Rudolph and his Australian friend and musician, Greg O'Connor (Boom Crash Opera). Rudolph had been studying mathematics and computer music in Australia, and a mix of Daszu, his computer generated music and O'Connor's great genius with electronic parts is evident in these intense, propulsive recordings made on a pair of DX-7 synthesizers one feverish day in 1983.
Tracklist:
1.A01. Love/Obsession
2.A02. Cynthia
3.A03. Suppressed Malice
4.A04. Emotional Humiliation
5.A05. Phrenesis
6.A06. Beta Diminished
7.A07. Ophelia (Psycho-Acoustic Theatre: Live Performance April 12
8.1981)
9.B01. Krystalene Voga
10.B02. Dina-Tina
11.B03. Maximum Talk (Minimum Shame)
12.B04. Plans
13.B05. Mythological Love
14.B06. La Plus Belle
15.C01. Declaration
16.C02. Love/ Obsession
17.C03. Pink Haze
18.C04. Plans
19.C05. La Plus Belle
20.D01. Mr. Irie*
21.D02. Dina-Tina
22.D03. Hey Babu
23.D04. Ophelia*
Order vinyl:
The official Android App for upcomingvinyl.com is now available for free on Google Play.
Vinyl & Turntable Accessories
17 January 2020
/ More records