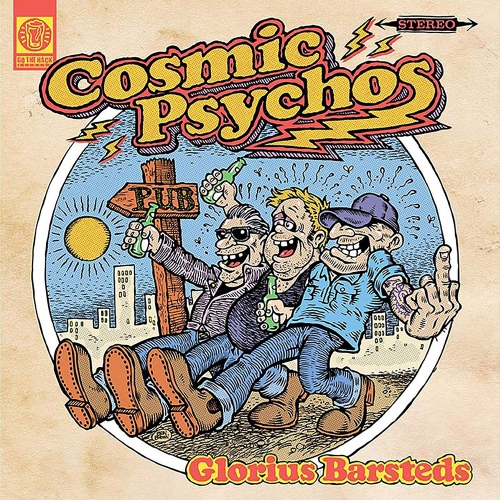 Cosmic Psychos
Glorius Barsteds
One of the most notorious Australian pub rock bands, Cosmic Psychos play beer-fueled, garage-accented, heavy-hitting punk rock with no frills and no pretensions. Officially beginning their journey together in 1985, the Psychos gained a reputation for not caring about money as much as the free beer, laughs, and occasional overseas traveling involved with being in a rock band. Despite their lack of careerism, the band has had just that: a career that's spanned four-plus decades, seen them release over a dozen albums, sing with Pearl Jam's Eddie Vedder, befriend Mudhoney, and supply beer to the then-underage Silverchair at Australia's Big Day Out Festival. In the late '70s, bassist Ross Knight was playing in a high school punk band called Rancid Spam in Victoria, Australia, two hours north of Melbourne. Around the same time, guitarist Peter Jones and drummer Bill Walsh were performing together in the Melbourne group Spring Plains. After Spring Plains lost their bass player in 1982, Walsh and Jones asked their friend Knight for his assistance. Knight agreed to join them on bass, and by 1985 the threesome handed the original singer his walking papers. After deciding that Knight would take over vocal duties, the group changed its name to Cosmic Psychos. The band played its first gig as Cosmic Psychos at the Stockade Pub in Carlonand, Australia, with the Moodists. That same year, Cosmic Psychos recorded their debut EP, Down on the Farm, on a two-track tape machine in their practice space and released it on Australia's Mr. Spaceman Records and Europe's What Goes On label. Two years would pass before Cosmic Psychos would release their first full-length, Cosmic Psychos. Mr. Spaceman released the vinyl version, while Australian label Shagpile had the CD counterpart distributed through Shock Records. By 1989, Cosmic Psychos saw their second full-length album, Go the Hack, released by Australia's Survival; it also became their first American release when Sub Pop brought it out in the United States. The band followed Go the Hack with its first live album, Slave to the Crave, in 1990, which was taken from a June 1989 performance at Melbourne venue the Palace. As 1990 set in, Jones vacated the guitar spot. Knight and Walsh asked their friend Robbie Watts, a self-taught guitarist, to join the fold. Watts said yes and Cosmic Psychos ventured to Wisconsin to record their third full-length release, Blokes You Can Trust, at producer Butch Vig's Smart Studios. Released in 1991, Blokes You Can Trust was the band's first record for the American noise rock label Amphetamine Reptile, after the bandmembers became drinking buddies with label head Tom Hazelmeyer. (AmRep would also reissue Down on the Farm and Cosmic Psychos on a two-fer CD.) The Psychos conducted a European tour during which they developed an unusual trademark. After seeing many other rock bands take bows after performances, at the end of a show in Potsdam, Germany, Cosmic Psychos decided to alter the tradition by pulling down their pants and mooning the unsuspecting audience. The release of the 1991 Dead Roo single was followed by the Back to School EP, which included a cover of L7's Shove. The latter track was a nod to the Los Angeles all-female rock band, who'd covered a Cosmic Psychos song on a 7'' EP. Amphetamine Reptile also had the band contribute a track to its Dope, Guns and Fucking in the Streets, Vols. 4-7 compilation. The year 1993 saw the release of Palomino Pizza, a six-song EP featuring three cover songs of old Australian pub classics from the likes of Billy Thorpe & the Aztecs, Buffalo, and Guitar Overdose. The bandmembers criticized themselves in interviews, saying they felt that the CD was a half-hearted effort on their part, but they toured in support of the disc nonetheless. They played shows in the United States with Superchunk and the Onyas.
Tracklist:
1. Nice Day To Go To The Pub
2. Battlewitch
3. Hate, Drunkenness, Vandalism, Demolition
4. Hoon
5. Enmore Backender
6. Please Sir (Can I Have Some More)
7. Bull At A Gate
8. 3rd Strike
9. Nude Sheilas On Motorbikes Drinking Beer
10. Watchbox Road (Fucked In The Truck)
11. Tossing The Kaber
12. Wake Up Rocket
Order vinyl:
The official Android App for upcomingvinyl.com is now available for free on Google Play.
Vinyl & Turntable Accessories
22 November 2019
/ More records