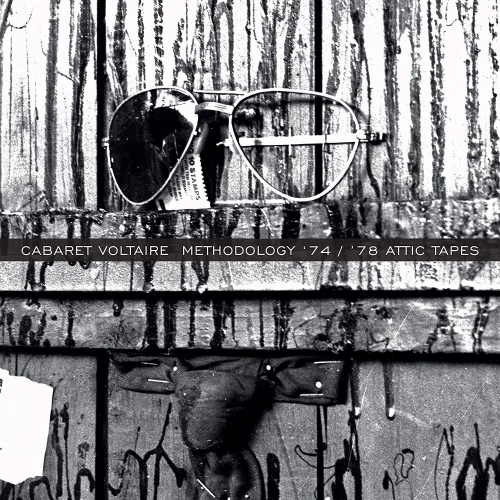 Cabaret Voltaire
Methodology '74 / '78 Attic Tapes
(7xLP)
Mute are happy to announce the reissue of Cabaret Voltaire's METHODOLOGY '74-'78. Attic Tapes as a clear 7x vinyl box set with high definition download limited to 500 copies worldwide. This is the first time this collection will be available on vinyl. This box set charts the development of Cabaret Voltaire, starting from their early experimental period of '74/'75. Included on the release are the original recordings of classics such as 'Nag Nag Nag', 'No Escape', 'The Set Up', 'Baader Meinhof', 'Here She Comes Now' and 'Do The Mussolini (Headkick)', all later re-recorded with new equipment and released by Rough Trade in the late '70s. Cabaret Voltaire were at the forefront of the UK Electronic Movement throughout the '70s. Initially a three piece, Richard H. Kirk, Stephen Mallinder and Chris Watson began by playing around with recorded sounds manipulated by basic reel-to-reel tape recorders in Sheffield in 1973. Way ahead of their time, these ideas cumulated in 1975, when the three staged their first performance of these sound experiments and assumed the name Cabaret Voltaire, taken from the name of the club started in Zürich by the principals of the Dada art movement during the First World War. As part of the confrontational energy of punk, and inspired by the Dada and Situationist art movements, these early recordings have lost none of their power in the intervening years, especially when the relatively primitive equipment used at that time is considered. METHODOLOGY '74-'78. Attic Tapes is an invaluable insight into how the band evolved prior to and during the punk explosion, and how the music gradually took on a more structured and rhythmic form.
Tracklist:
1.Exhaust
2.Synthi AKS Piece 1
3.Synthi AKS Piece 2
4.Jet Passing Over
5.Sad Synth
6.Treated Guitar
7.Treated Clarinet
8.Treated Drum Machine
9.The Possibility Of A Bum Trip
10.Space Patrol
11.Jack Stereo Unit
12.Magnet
13.Counter Reaction
14.Capsules Version
15.Makes Your Mouth Go Funny
16.Dream Sequence number 3 Short Version
17.Reverse Piece One
18.Stolen From Spectra
19.She's Back Part 1
20.Jive
21.The Single
22.Speed Kills
23.Fascist Police State
24.Synthi AKS Piece 3
25.Data Processing Instructions
26.Fuse Mountain
27.Calling Moscow
28.Dream Sequence Number 2 Ehtels Voice
29.The Attic Tapes
30.Treated Speech
31.Dream Sequence 3 Long Version
32.Henderson Reverse Piece 2
33.Bedtime Stories
34.Loves In Vein
35.Do The Mussolini (Headkick) They Kill Him Dub
36.She's Back Pt. 2
37.It's Not Music
38.Slo Change
39.Original Voice Of America
40.Heaven & Hell
41.Do The Mussolini (Headkick)
42.Here She Comes Now
43.Capsules
44.Oh Roger
45.Havoc
46.Talkover
47.No Escape
48.Photophobia
49.The Set Up
50.A Minute Is A Lifetime
51.Baader Meinhof
52.Nag Nag Nag
53.It's About Now
Order vinyl:
The official Android App for upcomingvinyl.com is now available for free on Google Play.
Vinyl & Turntable Accessories
06 December 2019
/ More records