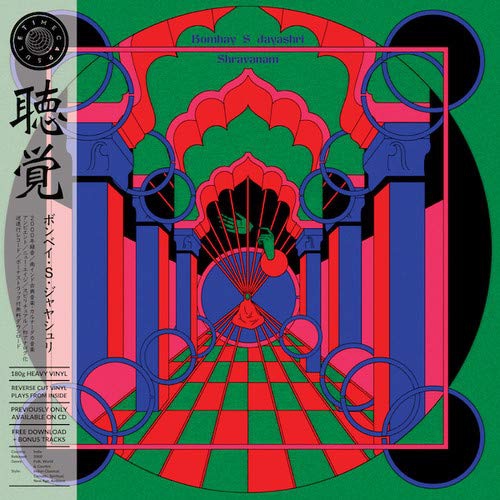 Bombay S Jayashri
Shravanam
The fourth Time Capsule release presents a transcendental work of intensely spiritual Indian classical music by celebrated vocalist and composer Bombay S Jayashri. During it's brief lifespan reissue imprint Time-Capsule's releases have proved as multinational as they have been wide-ranging in style, serving up Italian new age music (Il Guardiano Del Faro's Oasis), Japanese guitar fusion (Yuji Toriyama's Choice Works 1982-1985), and American dub by way of Ethiopia (Bill Laswell and Gigi's Illuminated Audio). For their fourth effort they've selected one of classical Indian vocalist Bombay S Jayashri's most mesmerising works. Born into a musician family steeped in the south Indian tradition of vocal music, the Mumbai-raised singer took advantage of the city's cosmopolitism to study northern Hindustani disciplines, one of the few vocalists to train in both. Now revered as one of the greatest living exponents of Carnatic music, she received an Oscar nomination for her work on Ang Lee's Life of Pi. Within the first minute of opener Sada Bada (Slokam), Jayashri's intensely spiritual vocals give a clear indication of why she has been increasingly embraced by a new generation of western listeners who've made the natural leap from ambient soundscapes to new age and devotional music. Accompanied on the following Bhajeham Bhajeham by a hypnotic rhythmic backing of mridangam drums, bells and the drone of a tambura, over it's epic twenty-minute length she stretches her voice into a variety of spellbinding forms - her softly enunciated dedications to Shiva enveloping you with their immersive warmth and cosmic beauty. Kalimaheshwari's gently undulating rhythms form a similarly entrancing undercurrent, over which Javashri delivers a jaw-dropping performance of melodic Sanskrit chants which evoke a variety of different names for the sacred feminine. One of the album's new-found devotees is label boss Kay Suzuki: "every time I listen I'm amazed at how such a small ensemble can create such a deep musical landscape. The incredible production plays a big part. That intricate percussion sounds so clear and sits in all the right pockets rhythmically and sonically. Just by following this groove I'm put into a timeless zone, but when her voice hits on top of that gorgeous drone sound and I focus on the details of her small melodies within melodies, my heart centres and I find myself in a blissful place." As professor of cultural and political theory Jeremy Gilbert states in the album's liner notes, the mesmerising sincerity and deep spirituality of these songs present an intense and spiritual charge that will appeal to an audience well beyond believers and devotees of Hinduism.
Tracklist:
1. Sada Bala (Slokam)
2. Bhajeham Bhajeham
3. Kalimaheshwari
Order vinyl:
The official Android App for upcomingvinyl.com is now available for free on Google Play.
Vinyl & Turntable Accessories
26 July 2019
/ More records