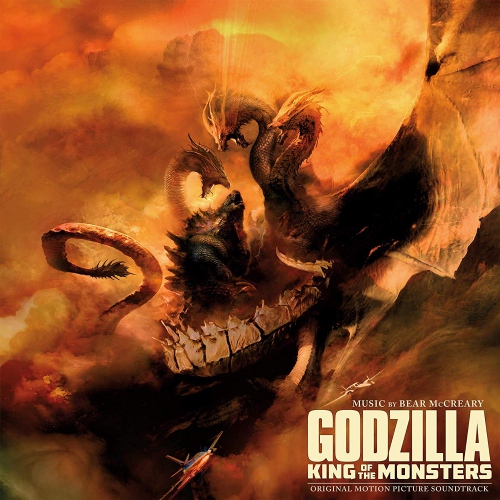 Bear Mccreary
Godzilla: King Of The Monsters
(2xLP)
Waxwork Records is thrilled to present GODZILLA: KING OF THE MONSTERS Original Motion Picture Soundtrack by Bear McCreary. Written and Directed by Michael Dougherty (Trick 'r Treat, Krampus) and starring Millie Bobby Brown (Stranger Things), Vera Farmiga (The Conjuring), and Kyle Chandler (Super 8), GODZILLA: KING OF THE MONSTERS is the highly anticipated sequel to GODZILLA (2014) and it is the 35th film in the Godzilla franchise.The film follows the heroic efforts of the Monarch agency as they face off against numerous giant, "titan" monsters, including the mighty Godzilla, who clashes with Mothra, Rodan, and his ultimate nemesis, the three-headed King Ghidorah. They all vie for supremacy, leaving humanity's existence hanging in the balance.The immense film music by composer Bear McCreary (The Walking Dead) features a two year long labor of love dubbed a "Monster Opera" by director Michael Dougherty. The music of GODZILLA KOTM is a crucial element to the film. Each "kaiju" is given a voice in this epic opera - Godzilla is presented with heroic, guttural vocalizations. King Ghidorah presented with dark, hypnotic chanting. Mothra by way of an ethereal female choir. Rodan's voice achieved by orchestral French horns pushed to their very limit to "scream" ripping roars.Incorporated and adapted is the legendary Godzilla theme by Akira Ifukube, and the immortal "Mothra's Song" by Yuji Koseki. Also featured is the adapted eternal classic "Godzilla" by Blue Oyster Cult sang by System Of A Down's Serj Tankian.Clocking in at 98 minutes of music, Waxwork is proud to present GODZILLA: KING OF THE MONSTERS as a deluxe triple LP set. Housed in a unique, rarely manufactured heavyweight triple-fold LP "monster" pack, and featuring 180 "Kaiju" colored vinyl, liner notes by composer Bear McCreary, and artwork by Christopher Shy.
Tracklist:
1. Godzilla (feat. Serj Tankian)
2. Godzilla Main Title
3. Memories of San Francisco
4. The Larva
5. Welcome to Monarch
6. Outpost 32
7. Ice Breaker
8. Rise of Ghidorah
9. Old Rivals
10. The First Gods
11. Rodan
12. A Mass Awakening
13. The One Who is Many
14. Queen Of the Monsters
15. For Andrew
16. Stealing The Orca
17. The Hollow Earth
18. The Key to Coexistence
19. Goodbye Old Friend
20. Rebirth
21. Fog Over Fenway
22. Battle in Boston
23. Redemption
24. King of the Monsters
25. Ghidorah Theme
26. Mothra's Song
Order vinyl:
The official Android App for upcomingvinyl.com is now available for free on Google Play.
Vinyl & Turntable Accessories
11 October 2019
/ More records