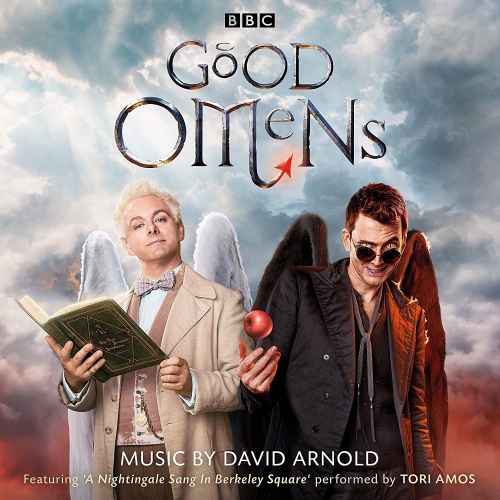 David Arnold
Good Omens Original Soundtrack
Composer David Arnold's soundtrack to the highly anticipated TV adaptation of Neil Gaiman and TerryPratchett's 1990 comic fable makes it's debut on vinyl.Amazon Prime's six episode mini-series follows the odd couple, angel Aziraphale (Michael Sheen) and demon Crowley (David Tennant) in their quest to sabotage the end of the World, delivering a tongue in cheek adaptation of this powerful and funny story.From David Arnold, the award-winning composer of Sherlock and Casino Royale, comes a soundtrack that perfectly complements Good Omens' drama and visual sensibilities. At times nostalgic and eerie but always varied, beautiful and full of excitement, this robust, yet funny music entity has become another character in the story. Here, Arnold has created a contemporary soundworld for heaven and hell. Tori Amos performs A Nightingale Sang In Berkeley Square as a closing song.David Arnold is one of the UK's leading film composers, composing scores for blockbusters includingStargate, The Chronicles of Narnia: the Voyage of the Dawn Treader, Hot Fuzz, Paul, Independence Day, 2 Fast 2 Furious and Casino Royale. The Good Omens TV series launched on Amazon Prime Video around the world in May 2019.
Tracklist:
1. Good Omens Opening Title
2. Chattering Nuns
3. Three Card Switch
4. Warlock
5. Adam
6. Lullaby
7. Hell Hound
8. Wrong Boy
9. We're Doomed
10. End Titles - The Theme That Got Left in the Car
11. Witch
12. Newt
13. Anathema
14. The Them
15. Anathema Meets Them
16. Paintball
17. Anathema Investigates
18. Sleeping Adam
19. I Should Cocoa
20. Crucified
21. The Black Knight
22. The Globe
23. James Park
24. Holy Water
25. Adam and Dog
26. We're Not Killing Anybody
27. Atlantis
28. Gabriel
29. Bad Angel Michael
30. Delivery for Pollution
31. Message for Mr Death
32. Aliens!
33. Ambassador Arrives
34. Ansaphone
35. Adam Ascending
36. Shadwell Breaks In
37. Bookshops ON Fire
38. Is That You?
39. Four Horsemen
40. Thundergun
41. Adams Changed
42. Horsemen to the Airfield
43. On Your Bikes
44. Requiem for a Bentley
45. The Gathering
46. Despatch the Horsemen
47. Computers Down
48. End of This Story
49. Ineffable Plan
50. They've Told His Father
51. Another Place
52. Life After Death
53. Adams Bedroom
54. Restoration
55. Newt and Anathema Wake Up
56. Hell and Holy Water
57. Lawyer With a Box
58. Shadwell and Tracy
59. Together
60. All's Well that Ends
61. All Change
62. A Nightingale Sang In Berkeley Square
Order vinyl:
The official Android App for upcomingvinyl.com is now available for free on Google Play.
Vinyl & Turntable Accessories
20 September 2019
/ More records