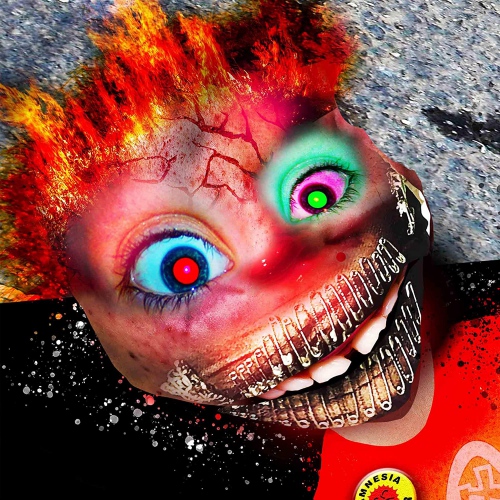 Amnesia Scanner
Tearless
Amnesia Scanner announces Tearless, the Berlin-based duo's second LP. As Amnesia Scanner founders, Ville Haimala and Martti Kalliala watch their icy home country of Finland thaw, the staggering scale of political recalibration and the worldwide climate crisis to come blows open old norms. This album reflects what it feels to experience Earth at a time when collapse is emerging as the prevailing narrative. The musical scope of the record is expansive, with guest vocalists-the Peruvian artist Lalita and the Brazillian DJ/producer LYZZA-descending into a vast uncanny valley of sound. Tearless follows the 2014 AS Live mixtape, 2015 audio play Angels Rig Hook, two EP's for Young Turks, and their 2018 debut album, Another Life (PAN). "There's a looming sense of radical change," they note, connecting the present to a fin de siecle horror and curiosity regarding what new world is being ushered in. Someone called Tearless a "breakup album with the planet." To which Amnesia Scanner responds, on the LP's closing track: "You will be fine, if we can help you lose your mind." With the crossfader on Tearless sitting closer to pop than abstraction, so too does the audience for this record widen in scope. Listening through: Opener "AS Enter" sets a sombre tone until the fucking riffs of the second track (the titular, Lalita-helmed "Tearless") make clear there's plenty of roaring to come. A feature from metalcore band Code Orange on "AS Flat" follows, along with "AS Trouble" (feat. Oracle, the third, machinic ghost-member of Amnesia Scanner) and together they hit as blackmetal-gaze dirges. At the album's midpoint, Lalita returns for the beautiful, operatic breakdown of "AS Acá" (released as a single in 2019), before "Center of the Labyrinth" guides listeners through three club ready tracks-the grain-processed dembow of "AS Too Late" and "AS Going" with LYZZA, and then the ambient headbanger "AS Labyrinth." Closing "Tearless" is the sadboy grunge of "AS U Will Be Fine" with a clear statement of intent: doom, despair, insanity, absurdity, it's all natural, all cathartic, and all OK. Refuse like the '90s and party like the '20s-if that seems senseless, you are doing it right.
Tracklist:
1. As Enter
2. As Tearless (Feat. Lalita)
3. As Flat (Feat. Code Orange)
4. As Trouble
5. As Aca' (Feat. Lalita)
6. Call of the Center (Interlude)
7. As Too Late
8. As Going (Feat. Lyzza)
9. As Labyrinth
10. As U Will Be Fine
Order vinyl:
The official Android App for upcomingvinyl.com is now available for free on Google Play.
Vinyl & Turntable Accessories
More upcoming records