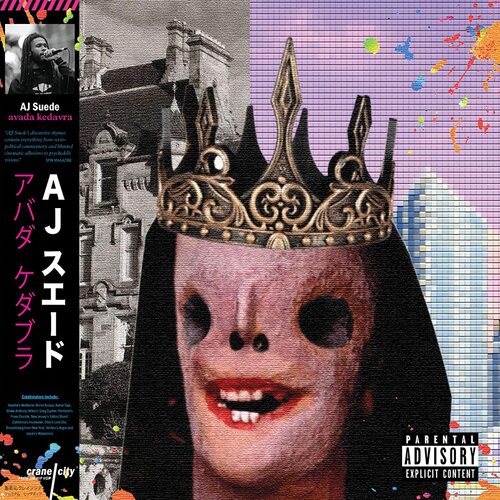 Aj Suede
Avada Kedavra (Deluxe)
Avada Kedavra Deluxe," by Seattle rapper AJ Suede, is a 21-track, self-produced, self-referencing, double-vinyl labyrinth of experimental boom-bap. Building on a signature style that SPIN magazine describes as "stream-of-consciousness rhymes, containing everything from socio-political commentary and blunted cinematic allusions to psychedelic visions," Suede's creation is as compelling as it is unclassifiable. On the first LP, Suede demonstrates his substantial skills as a beatmaker and rapper, chopping up what Seattle's KEXP calls "the smoothest, jazziest, weirdest samples" and overlaying parkour bars about Grunge, success, and social justice. From the first cut, "Nebuchadnezzar," which New York's Major Stage describes as a "powerful chant-like hypnotic loop," these 10 tracks capture an elusive mood of too many hours inside watching YouTube and trying to piece together fractured connections. The album's title is derived from an Aramaic spell: "Let this thing be destroyed." On the second LP, Suede invites 13 guests to "destroy" the original songs. This disc of remixes and reworkings showcases underground voices from across the Northwest (Seattle's Wolftone, Khrist Koopa, Portland's Fines Double), from across America (New Jersey's Fatboi Sharif, California's mudwater, Ohio's Lord Olo, New York's Bloodblixing), and around the world (Tel Aviv's Argov and Japan's Wazasnics). Seattle rappers Astral Trap, Blake Anthony, Mika'il, and Greg Cypher are featured on a bonus "posse" cut. With "Avada Kedavra Deluxe," AJ Suede has tapped into the moment, using what Deeply Rooted Hip-Hop calls "a subconscious steeped in the mystical." As KEXP says: "Quite predictably, the whole album bangs.
Tracklist:
1. Nebuchadnezzar
2. Traverse the White Light
3. Double Triple
4. Psilocybin
5. Voodoo Tactics Ft. Fatboi Sharif
6. Chronovisor
7. Houses on a Hill
8. No Exception
9. Reading the Room
10. Mind Heavy
11. NXCPTN
12. DBLTRPL
13. CHRNVSR
14. HSS
15. VDTCTS Ft. Fatboi Sharif
16. TRVRSTHWHTLGHT
17. RDGTHRM
18. Mndhvy
19. Pslcybn
20. NBCHDNZZR
21. Nebuchadnezzar II Ft. Astral Trap, Blake Anthony, Mika'il, Greg Cypher
Order vinyl:
The official Android App for upcomingvinyl.com is now available for free on Google Play.
Vinyl & Turntable Accessories
More upcoming records