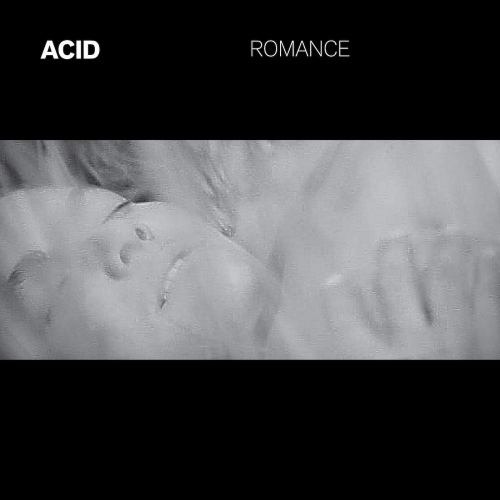 Acid
Romance
ACID is a band formed by musicians Imaad Wasif and Jeff Hassay in the sunny depths of Greater Los Angeles. What began as breezy afternoons tinkering in Hassay's studio yielded 3 albums done in one 9 month haze of knob turning, homemade instrument-banging and attempting to achieve some blurry vision of life in the endless dream machine that chugs in likeminded brains as a fevered robot would, glitching away into the long night. Romance, Science Fiction with Acid and Persona hint at the sound of T. Rex sipping Captain Beefheart's kombucha at Brian Eno's bonfire where New Order sink their feet in Brian Wilson's sandbox and exhale in a meaningless grunt circa LA1000. All albums will be available on LP for individual sale and as a limited edition box set called the 'ACID Box' on Narnack Records. Included with the ACID Box, is the 'Mysterious Light,' an L-shaped 1 ¼' X 1' object. It's about the size, weight and shape of a Starburst candy with a little 1' arm coming out of it that omits purple/blacklight. It is to be placed on the record player's arm while the record plays, and because of a pigment in the record, it will cause the moving LP to glow a Mysterious Light. Jeff Hassay publishes books under the moniker Stagger Fancy Press. Titles include Andy Kaufman's The Tony Clifton Story, 2012, and Morrissey: Complaints and Apologies, 2014. In 2017 he released Dirt Sounds (Small World Records), a limited edition LP hand-made out of soil from Brian Wilson's childhood house featured in The Vinyl Factory. As a musician and producer, his releases include Kath Bloom,This Dream of Life, 2017 (Caldo Verde) and Enter Das Ram, 2016 with Rachel Mason (Cleopatra/Practical). Imaad Wasif has released numerous solo albums, the most recent being Dzi (Grey Market, 2017) and Great Eastern Sun (Nomad Eel, 2018). His collaborations include an album with Lou Barlow & The Folk Implosion (Interscope/Domino, 2003), a deathfolk album with Black Mountain's Stephen McBean, Anarchic Breezes (Outer Battery, 2013), and recording/performing with Karen O and Yeah Yeah Yeahs.
Tracklist:
1. Bad Vibrations
2. Casey
3. I Get Excited
4. I Don't Wanna Be Disturbed
5. Gone (Gone Gone)
6. Innocence
7. The Only One
8. Queer Feeling
9. LA Money
10. Romance
Order vinyl:
The official Android App for upcomingvinyl.com is now available for free on Google Play.
Vinyl & Turntable Accessories
14 February 2020
/ More records