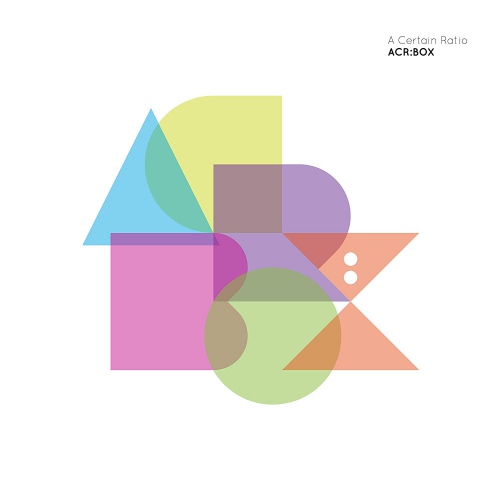 A Certain Ratio
Acr:box
(7xLP)
A CERTAIN RATIO, who celebrate their 40th anniversary this year – have shared details of a new box set, ACR:BOX, out on Mute May 3 via vinyl, CD and digital formats. ACR:BOX was remastered by Martin Moscrop at Abbey Road studios. Featuring over 20 unreleased tracks, the box set will be available as a seven-piece colored vinyl set, a four-CD set and a digital album. Following on from 2018's compilation, acr:set, the box showcases the diversity of the singles, B-sides and alternative versions of tracks that A Certain Ratio have released, but without repeating tracks recently made available. ACR:BOX collates everything that fans had been missing from the recent reissue campaign and compliments that with a selection found after a deep delve into the archive to find all the hidden gems that had been talked about over the years, but never heard. The box set marks the 40th anniversary of A Certain Ratio's debut release – the Martin Hannett produced "All Night Party" (Factory Records' first single release) – which was described recently by Record Collector as "a statement of future intentions: to set funk off against nervous angst." They went on to be hailed universally as pioneers of what became known as "punk funk". Their sound is not easily pigeon holed and their influence can never be understated. The band introduced the avant-garde elements of funk, jazz, electronics, tape loops and technology to the pop song, wrapping it in a post punk aesthetic.


Tracklist:
1. All Night Party
2. The Thin Boys
3. Blown Away
4. Son And Heir
5. Waterline
6. Abracadubra
7. Funaezekea
8. Sommadub
9. Guess Who? (12" Version)
10. Tumba Rumba
11. Knife Slits Water (12" Version)
12. Kether Hot Knives (Mix In Special)
13. I Need Someone Tonight
14. Don't You Worry 'Bout a Thing
15. Life's a Scream
16. There's Only This
17. Si fermir o grido (Touch Cassette Version)
18. Brazilia 6.10
19. Sounds Like Something Dirty
20. The Runner (Greetings Four Version)
21. Inside (Greetings Four Version)
22. Bootsy (Greetings Four Version)
23. Fever 103 (Greetings Four Version)
24. Loosen Up Your Mind
25. The Planet
26. 27 Forever (Jon DaSilva's Testimonial Mix)
27. Turn Me on (7'' Edit)
28. Shack up (Electronic Radio Edit)
29. Houses In Motion (Demo Version 1)
30. Houses In Motion (Demo Version 2)
31. And Then Again (Another Version)
32. Piu Lento (John Peel Session)
33. Nostromo A Go Go (Demo)
34. Force (Demo)
35. Backs to The Wall (Demo)
36. The Big E (Demo)
37. Every Pleasure (Demo)
38. Rivers Edge (Demo)
39. Stadium (Demo)
40. Thin Grey Line (Demo)
41. Repercussions (African Mix)
42. BTTW 90 (Demo)
43. Spirit Dance (Demo)
44. Bitter Pill
45. Can You Dance
46. Mello (JD 800 Perc Mix)
47. Tekno 4 an Answer (120bpm)
48. Samba 123 (Demo)
49. Some Day (ACR Rework)
50. Happy Meal (Working Title)
51. Flight Won't Stop (Unfinished Demo)
52. Fruit Song (Unfinished Demo)
53. W.S.L.U.
Order vinyl:
17 May 2019
/ More records